Published: June 05, 2017
WESTERLY, RI | Maxson Automatic Machinery Company offers a sheeter designed to convert rolls of filtration papers and nonwoven material into finished sheet sizes. Equipped with multiple roll stands, precision accuracy, and exact counting and marking of reams, the sheeter reportedly triples the productivity of operations that use conventional converting methods.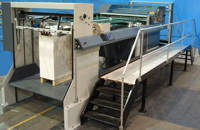 The cutter's dual-motor drive sheet length control, anti-static devices, and customized jogging system allows for high-speed conversion of multiple webs to 220 lbs/330 sq ft (325 gsm) material on cutoffs from 11–60 in. (279–1,525 mm) lengths that eliminate the need for secondary handling of sheets after stacking.
Company says the innovative use of air and anti-static components permits speeds as high as 600 fpm (185 mpm) on the flimsiest filtration media material. Introducing ionized air at the time of the cutting action, overlapping of sheets, and in the delivery of the cut packet into the stacker said to allow for jam-free operation at higher speeds.
Using company's counting and marking design ream counts as small as 25 sheets can be accurately and reliably identified, allowing for small batch orders to be individually packaged after sheeting.