Published: May 08, 2017
WESTERLY, RI | Maxson Automatic Machinery Company offers a retrofit package that upgrades existing stationary bed knife cutters with what it says is state-of-the-art dual knife rotary cutting technology.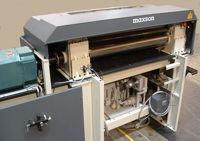 The compact design allows for straightforward replacement of the older cutter, reportedly with minimal interruption of ongoing production. The retrofit package can be fit to any rotary sheeter.
The two cross cutting revolvers increase production by allowing knife loading up to 1,000 lbs/3,300 ft2 (800 g/m2). The blade adjustment clamps allow fine tuning of the cross cut blades and extends knife life to four times that of conventional cutters, company says.
The dual-knife design mounts both top and bottom blades in rotating cylinders coupled together with anti backlash gearing. The synchronized speeds of the blades to the web are said to result in the cleanest, quietest, dust-free cross cutting action available.
Outfitted with digital electronic controls, accuracies within ±0.015 in. (±0.381 mm), are maintained. Because the speeds of the blades match the speed of the web at time of cut, no adjustment for squareness is required.
This email address is being protected from spambots. You need JavaScript enabled to view it.