Published: April 10, 2017
WESTERLY, RI | Maxson Automatic Machinery Company offers an MSS sheeter to convert rolls of Tyvek into precisely stacked piles for the envelope, industrial packaging, medical packaging, and graphics industries.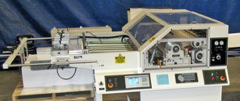 Outfitted with a dual-motor drive technology said to maintain accuracies of ±0.015 in. (±0.381 mm) sheet length and a slitter rig that can produce custom sizes in multiple piles, the sheeter eliminates the need to guillotine oversized sheets to a finished dimension. Company says the technology improves productivity while minimizing costly waste. Available in trim widths to 65 in. (1,651 mm) the cutter's standard configuration allows for a cutoff of 16–55 in. (407–1,400 mm), although extended lengths and shorter digital sizes can be accommodated.
The delivery system is outfitted with static-eliminating equipment and an air delivery system that productively runs the lightweight nonwoven product at speeds to 300 fpm (90 mpm). The sheeter's design allows quick setup (less than 5 min) of the cutter, delivery system, and stacker, permitting economical operation of small custom orders as well as longer production runs.
The stacker provides skids of press-ready sheets weighing to 2,000 lbs (2,727 kilograms). Reportedly, the jog box' jogger blades and front stop are easily set without hand tools, and the sheeter's low profile permits easy access to the converted product.
This email address is being protected from spambots. You need JavaScript enabled to view it.