Published: January 26, 2017
ST. CROIX FALLS, WI | Kluge announces the OmniFold 3000 Automatic Folding and Gluing System, said to be a fully modular converting system built to maximize converting capabilities while minimizing set-up time.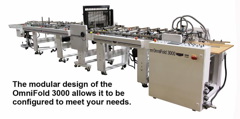 Company says the unit includes features that bring productivity and innovation to a new level. These features include: synchronized touch-screen controls, interchangeable feeding units, modular alignment system, modular pre-break device, interchangeable bearing bed transports and interchangeable vacuum transports. Also reportedly delivers quality and rugged reliability.
Kluge customer Todd Pemberton of C&D Printing says about the OmniFold 3000, "Our Kluge plays a big part in our plan to service the growing folding carton market. Our customers have motivated us to grow in this area and offer crash lock bottom boxes, tuck bottom boxes, and other sophisticated folding and gluing applications. Our modular design lets us add components as the need occurs."
This email address is being protected from spambots. You need JavaScript enabled to view it.