Published: December 29, 2016
PATERSON, NJ | When Paradigm Printing, Dalton, GA, needed to replace an important back-end piece of machinery, the company replaced a 15-yr-old paper cutter with a refurbished 54-in. Colter & Peterson (C&P) SABER unit said to trim twice as much material in the same amount of time it took the older unit.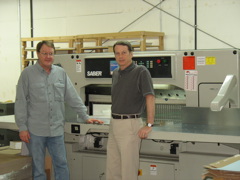 "We were looking to replace a 55-in unit that was used exclusively for cutting chipboard up to 200 point," says Todd Reigel, Paradigm Printing's president and one of four partners. "Cutting chipboard causes a lot of vibration and wear and tear on the machine, so we needed to find a heavy-duty cutter with double arm action," says Reigel. "I…checked out a few other cutters on the market. I looked around for a while, and SABER came up in my search several times. C&P is a large, reputable company."
With the SABER, Paradigm says it has a workhorse paper cutting machine, and more. Installed in early October, it came with a computerized Microcut retrofit back gauge system. With touch screen controls, the automated process reportedly saves time and money by boosting productivity by as much as 50%. Microcut memorizes cut sequences and delivers highly accurate trimming within 1/64th of an inch, an important consideration for Paradigm's business.
"The upgraded electronics and safety factors were key selling points," Reigel says. "The contracted installers they sent to set up the machine knew what they were doing and there were no issues, no problems. Everything went smooth and fast. They were in and out with the old machine in two days."
Paradigm's also has a 400-in. sheet-fed printer with two Heidelberg Speedmaster CD presses, including one with a double UV coater.
"For our retail partners, says Reigel, "we produce display boxes by hand and they must be cut with very high precision. The SABER cuts twice as much as the machine it replaced and it does so effortlessly. We've had double arm cutters before but nothing cuts like this one."
This email address is being protected from spambots. You need JavaScript enabled to view it.