Published: November 16, 2016
ST. CROIX FALLS, WI | Brandtjen and Kluge and strategic partner LasX have teamed up to offer CartonsinMinutes, a laser processing and converting solution for folding cartons and other folded and glued products.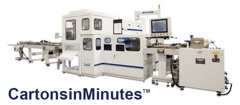 This process utilizes digital workflow technologies in combination with laser converting, robotic automation, and flexible folders and gluers to achieve on-demand packaging. System combines laser processing with the Kluge OmniFold 3000 folding and gluing system to produce low-volume printed carton runs, reportedly resulting in a cost-effective tool for the production of folding cartons.
Company says digital technology allows user to instantly respond to market conditions and modify carton design and quantities accordingly, changing the outlook on folding carton production adding that raw material becomes a finished product in minutes, not days or weeks.
"On Demand" production capabilities gives user a fully digital workflow to achieve intricate patterns reportedly unobtainable with mechanical dies; cost-efficient short-run and high-volume production; and elimination of WIP (work in progress) and finished goods inventory.
This email address is being protected from spambots. You need JavaScript enabled to view it.