Published: November 07, 2016
WESTERLY, RI | Maxson Automatic Machinery Company says converters of small batch, value-added products such as pressure-sensitive film, metallized vinyl, and other laminates can increase productivity with the MSS Sheeter, which is geared to run at 300 fpm (90 mpm) maximum speed.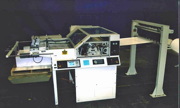 Designed for fast and easy size changes, the sheeter is said to reduce downtime associated with setup by up to 50%. Reportedly, the new sheeter can precisely slit and sheet to an accuracy of +0.015 in. (+0.381 mm), eliminating the need to guillotine trim. In addition, the cutter can be outfitted with automatic mechanism that maintains squareness without operator adjustment.
Available in trim widths to 64 in. (1,625 mm), the specialty sheeter requires just a single operator. It has a cut-off range of 11–55 in. (279–1,397 mm) long. The unit can be equipped with various productivity-enhancing options such as web guidance, air washed boards, dust collector systems, and tag inserters.
This email address is being protected from spambots. You need JavaScript enabled to view it.