Published: October 31, 2016
Paperboard Packaging Council judges say perfume carton is "masterfully converted."
The Paperboard Packaging Council revealed the winners of its 73rd North American Packaging Competition on October 28 at its fall meeting in San Antonio, TX. Here is a look at the top prize winners.
Paperboard Package of the Year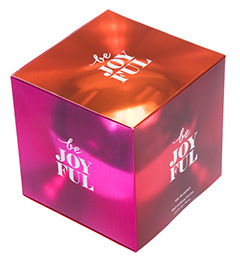 TPC Printing & Packaging
Bath & Body Works Be Joyful 2.5oz EDP
Board: 18pt SBS Silver MPE with custom laminate lens from Gould Paper
A work of art and a feat of precision, this perfume carton was displayed prominently in Bath & Body Works stores during the 2015 holiday season. Carefully converted to mirror the aesthetics of a holiday ornament, the carton features custom laminate lenses that took months of prototyping to create. The lenses were carefully applied to the board, as miniscule imprecisions in placement could throw off the entire look. The carton also has custom press-applied colors and silkscreened white copy for a clean appearance. Masterfully converted, this piece shows us a new and striking side of paperboard never quite seen before.
Eco Award
WestRock
Verticrate
Board: 27pt CNK Carrier Kote from WestRock
This 12-pack carrier for glass beer bottles sits triumphantly at the intersection of sustainability and brand power. In substituting a lighter 27pt Carrier Kote for the previous design's litho-laminated B-flute, this carton yielded 66% freight/logistics savings, 3% material weight savings, 81% savings in pallets and valuable brewery floor space, and a 30% carbon footprint reduction. Furthermore, the new substrate choice eliminated undesirable visible fluting (known as a "washboard look") that detracts from the brand, graphics, and overall appearance. Instead, smooth and consistent paperboard yields waste reductions and promotes the brand better than ever before.
Innovation Award
WestRock
Duralift
Board: 24pt CNK Carrier Kote from WestRock
Demonstrating the unmatched strength and power of paperboard, this 20-can beer carton features a unique strap-style handle—made entirely of paper—that improves performance three times over similar cartons with traditional racetrack handles. The strap distributes weight to the ends of the carton where it attaches to the minor flaps, improving strength and performance. Additionally, the rigidity of the cans helps the carton withstand the pressure of their weight, thereby eliminating deformation and bulging that can occur when customers pick up similar packs. The strap also extends to allow space for the consumer's hand, and has a reinforcement ply for a more robust and comfortable grip.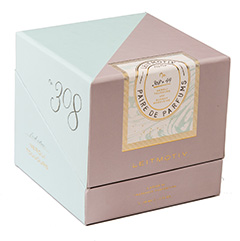 Rigid Box of the Year
Tap Packaging Solutions
Leitmotiv Eau De Parfum Set
Board: 80pt and 50pt chipboard from Circle Inc.
Sold in Anthropologie, a high-end retail store for women, the Leitmotiv fragrance required high-quality packaging to match the expectations of the store's discerning shoppers. A luxurious rigid box was the perfect choice. With gold foil stamping and a unique hinge opening, this setup box stands out on the shelf, conveying a lightness and elegance that appeals to the brand's target market. Inside the pack, the perfume bottles are further branded and protected by paperboard sleeves that are printed and foil stamped to match the outer wrap.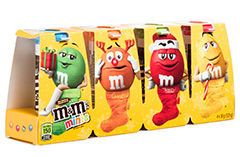 Folding Carton of the Year
The Ellis Group
M&M's Mini 4 Pack Stocking Stuffer
Board: 18pt SBS Everest from International Paper
This eye-catching carton reminds us how structural and graphic design can work together to form an unforgettable, gift-worthy package. The carton's perforations and creasing let consumers split the pack into individual gifts—ready to fill all of the stockings on the mantle during the holidays. The graphics showcase M&M's happy, playful brand, with each unit featuring one of the four M&M's characters dressed for the holiday. Brand-forward, convenient for parents, and fun for kids: what more could one ask of a carton?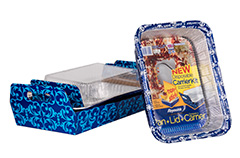 Judges' Award
Caraustar Industries
Carrier for Bakeware Pans with Lid
Board: 20 pt. CNK form Westrock
With this heavy-duty paperboard carrier, consumers can safely and comfortably transport their hot dishes to picnics, family gatherings, or the Sunday game. A four-corner beers style tray with fold-over double-layer handles, this design can hold twice the weight of the food that consumers can place in the pan. The system also includes a corrugated pad that insulates the hot pan and increases stability and strength of the paperboard tray—a feature not currently available in any other disposable aluminum pans on the market.
Judges' Award
JohnsByrne Co.
Casamigos Tequila Boxes
Board: 28pt C1S SBS
These high-end tequila packages pull out all the stops to allure consumers. Converted on a one-of-a-kind press with three coating units, eight print units, and 4 drying units, they have silver pre-foil stamping, ultra violet gloss coating, seven colors (three of which are custom pantone), soft-touch matte coating, and satin varnish. Post-press, the carton was embossed with the Casamigos logo, and a vertical wood grain deboss was applied throughout. With visual interest and great tactile qualities, these cartons show that, when it comes to converting, sometimes less is not more!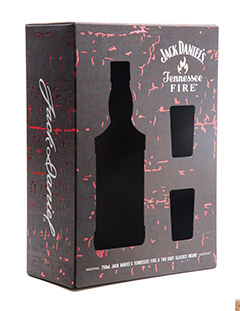 Judges' Award
TPC Printing & Packaging
Jack Daniels Tennessee Fire Holiday carton
Board: 26pt special laminated Landmark Black stock from Neenah Fibermark
Simulating the look of fire and charcoal, this Jack Daniels carton features special holographic red foil stamping and extensive embossing. To achieve the fiery effect, the carton required a whopping seven passes including silk screening, two stamping passes, and embossing in addition to diecutting and folding/gluing. Yet all this work certainly paid off: when rotated in light, the red foil reflects a myriad of different shimmering colors—much like real fire.
For more information, visit www.paperbox.org.cc