Published: July 19, 2016
WESTERLY, RI | Maxson Automatic Machinery Company has introduced a Human Machine Interface said to boost sheeter operator productivity. Unit incorporates a color touch screen with what company says are easily understood graphics to input and monitor machine parameters.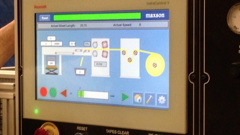 The large 15.6-in. (396-mm) screen can be viewed from any angle and is centrally located on the sheeter for ease of access.
The intuitive main screen provides a stylized view of the sheeter. From this view, the operator can monitor counts of rejected cuts, sheets on a skid, total order count, and lineal footage (meters). Line speed and sheet length are continually updated. Simple icons indicate starting and stopping the sheeter and increasing and decreasing the line speed, and company says images are sufficiently large to forgive dimmer eyesight and hand positioning that is less than coordinated.
By simply touching the section of the sheeter diagram, the operator is brought to a screen that allows access to specific operating parameters for either the roll stand, web conditioning, cutter, overlap delivery system, or stacker. Machine setup and order input reportedly can be done quickly and easily, with the main operating view always one touch back from any screen. This is said to allow operator to make adjustments without effort while the sheeter is operating at high speeds.
This email address is being protected from spambots. You need JavaScript enabled to view it.