Published: April 20, 2016
KENNESAW, GA | Last November Thoro Packaging launched FoldedColor, an online web-to-print platform for designing and ordering custom folding cartons. Company says the efficient workflow paired with the support of a Speedmaster XL 75-8+LYYL Anicolor from Heidelberg has provided it with a unique opportunity in the custom packaging segment.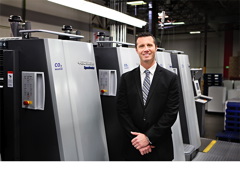 According to CEO Jan Steiner, the XL 75 Anicolor has significantly increased production speeds across the plant and provided enhanced color consistency and fewer makeready sheets. An upgrade from a CD 74, the Anicolor machine reportedly allows for better short-run capabilities with the same offset advantages.
The Speedmaster XL 75 Anicolor is said to lower the costs for short-run printing by using 90% less waste sheets than traditional offset. With maximum production speeds to 15,000 sheets/hr and a short, 1:1 anilox ink train, the Anicolor delivers high print quality along with quick and even inking, all preset via prepress—meaning no ink settings on the press, company says.
"With FoldedColor, we aim to provide the best experience for custom packaging through a streamlined online workflow that makes the designing and printing process easy, convenient and faster than ever, without compromising the quality our customers deserve," says Patrick Green, director of business development at FoldedColor.
FoldedColor allows users to order custom printed product packaging in what company says are six easy steps:
Pick a size or create your own
Review price
Choose online or offline editing
Add custom graphics
Approve 3D proof
Place order
Customers choose from a variety of standard box styles and have the option to design directly on the website or upload a PDF. Orders ship within 7–10 business days.
"We're thrilled to support Thoro Packaging in this exciting endeavor," says Clarence Penge, VP of Sheetfed at Heidelberg. "As a partner, we are dedicated to providing the integrated solutions needed to fulfill the current and future requirements of FoldedColor."
This email address is being protected from spambots. You need JavaScript enabled to view it.