Published: January 28, 2016
PATERSON, NJ | After experiencing success with two prior cutting systems and preparing for future growth, company officials at Lewisburg Printing in Lewisburg, TN, have ordered a new 110-in. Saber XXL paper cutter with Microcut from Colter & Peterson.
The oversized Saber cutter will be installed in May. It was selected to trim material that will be produced on the printer's new KBA 81-in. large format press, which is expected to begin operation the same month. The large format lithographer is located south of Nashville and specializes in POP/specialty packaging printing.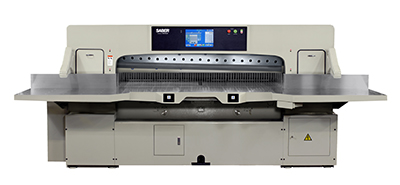 Managed by the fourth generation of the Hawkins family, Lewisburg Printing employs two other C&P paper cutters. Officials at the 118-year-old company pointed to the success of a 90-in. Saber cutter and auxiliary paper handling equipment that was added in 2013, plus a 90-in. reconditioned Seybold cutter from 2008, for the decision to invest in a third machine. The first Saber unit is used to finish top sheets, litho, and cut and stack work performed on two ROLAND 900XXL 73-in. large format presses.
"Our company has experienced double digit growth in the past year, and we are in the process of expanding for additional business," remarked Hale Hawkins, Lewisburg Printing's CEO. "We have had good luck with the first Saber cutter and like its quick set-up. The new machine will also have a jogging system installed with it."
Saber XXL cutters, when combined with the Microcut automated back gauge system, make an operation more efficient. Cutting edge technology provides operators with automated options and touch-button control. Microcut memorizes each cutting sequence and positions the back gauge blade so it can trim within fractions of an inch.