Published: December 04, 2015
Inventor benefits from converter's short run web-to-carton process.
FoldedColor Packaging, Corona, CA, through its innovative web-to-carton interface, provides high quality, cost-effective custom folding carton solutions to small businesses and startups. Erik Knear is an inspiring example of an entrepreneur who leveraged the unique capabilities available through FoldedColor.com to bring his invention to market.
Knear credits his young children with bringing out the inventor in him. About four years ago, he created a nifty little device trademarked "The Santa Signal" as an alternative to climbing on rooftops.
"I used to climb up on my roof on Christmas Eve and stomp around in my boots yelling 'ho, ho, ho!' down the chimney for my kids. Aside from risking a Christmas in the emergency room if I slipped, I was never in the room to share in my kids' reactions to hearing Santa Claus," said Knear.
The Santa Signal, tucked in a chimney or other inconspicuous place, electronically reveals Santa's arrival. Santa spreads his jolly good cheer, wonders aloud if the children are sleeping (typically sending little feet scurrying to bed), and calls out to his reindeer, including Rudolph, whose nose glows bright red for all to see. The Santa Signal not only keeps ambitious parents and grandparents off slippery rooftops, but it also spreads Christmas magic and produces unforgettable memories.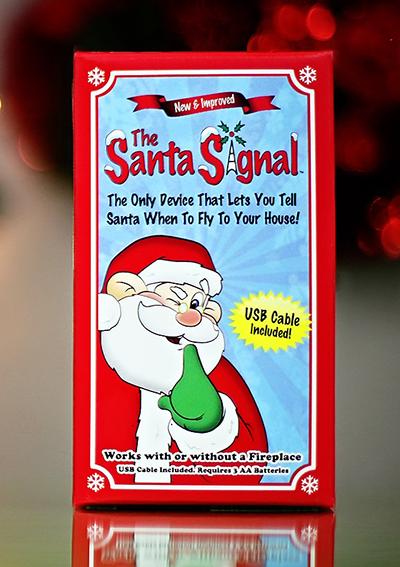 FoldedColor is the inventor's invention
As Knear can attest, bringing a new product to market isn't always a bowl full of jelly. He struggled to find the right packaging provider. "There are many manufacturers that can make inventions like The Santa Signal at decent prices, but packaging was a challenge until I found FoldedColor.com," he said. Before landing on FoldedColor.com, Knear learned that most package printers have order minimums ranging from 500 to 10,000 units, and those that do short runs favor digital output.
The Santa Signal, said Knear, was a "fledgling" product. "I wanted a great quality package because I know that a customized and professionally printed package adds credibility to the product and strengthens the brand. But I didn't need thousands or even hundreds of boxes," he explained. "I think I speak for many small businesses and startups when I say even $500 is a lot of money."
"What we offer is very unique: high quality custom cartons printed using a seven-color offset process—which blows digital print quality out of the water—and a low 50-piece order minimum," said Jan Steiner, president and CEO of FoldedColor, an online division of Thoro Packaging. The package is printed on a Heidelberg Speedmaster XL 75 sheetfed offest press.
FoldedColor.com's web-to-carton process is also unique. Knear priced, designed and ordered his folding cartons using the streamlined online workflow at www.foldedcolor.com. "I customized the size I needed, getting it down to an eighth of an inch of the product. The system generated a price. Then I downloaded the design template and created the artwork using the simple built-in design editor," described Knear. "After that, I chose the quantity I wanted and submitted the order."
Knear approved his 3D proof online and received his custom-printed cartons about ten days later. "It's clear that my boxes were printed with care and precision. I can say for certain that The Santa Signal in its package has impressed more investors and retailers than the product alone," he said.
Santa is getting an upgrade
Knear is currently working on a new USB version of The Santa Signal, which is expected to be available for Christmas 2016. The built-in USB input will greatly enhance The Santa Signal's capabilities—and give Santa much more to say. Customers will be able to download a variety of audio files, including vocal tracks custom-created using one or more names typed into the system. In the coming months, the web site will be changing to support the USB-based customization.
According to Knear, the possibilities are endless. "Beyond the personalization, everything from religious themes to adult humor becomes an option with downloadable audio," he said. "It will even be possible to use The Santa Signal to spread Tooth Fairy and Easter Bunny magic."
The next generation of The Santa Signal will come in a slightly larger carton to accommodate the USB cable. Knear said he may modify the design, too, "since FoldedColor.com makes it so easy."
Get it free. Post a video.
In the meantime, during the 2015 holiday season, the existing version of The Santa Signal is free. Simply visit the web site, www.santa-signal.com, and request one.
"We're running a promo this year to deliver the magic of The Santa Signal into many more households," said Knear. "We're giving away a limited quantity of our inventory and encouraging customers to help us spread the word by sharing a video of their kids' reactions to it on our social media channels."