Published: January 21, 2015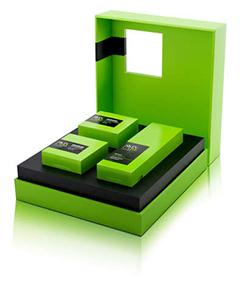 METSA, FINLAND | Metsä Board has won the Championship for Environmentally Friendly Printing in the Hong Kong Print Awards 2014 for its Metsä Skincare box set, designed with sustainability in mind. The glueless rigid box demonstrates how innovative packaging for the cosmetic market can be made using 100% recyclable paperboard, avoiding plastic wrapping, while the inner cartons provide a unique user experience. The set was printed by Shenzhen Inpa Packaging Co. Ltd.
By using no glue in construction of the rigid box, drying time is eliminated and speeds up the manufacturing process. A PET window is inserted in the lid, but can be easily removed before recycling. Corners look sharp and precise, and there are no excessive layers of paperboard. If extra security is required, the lid can be spot glued to the base, which cuts out the need for extra plastic wrap common in this market.
Commenting on the product packaging inside the set, Cyril Drouet, design & innovation director of Shanghai-based Metsä Board Packaging Services, says, "We wanted the consumer to experience a new way to open the package and reveal the content. The structural designs reduce the amount of corrugated insert found in traditional cosmetics packaging by 50%, whilst providing a sturdy and smart solution. Metsä Board has a strong reputation for producing sustainable fresh fibre paperboards, and we believe packaging produced with our boards should provide the same benefits."
Now in its 26th year, the Hong Kong Print Awards are run by the Graphic Arts Assn. of Hong Kong and open to designers, printers, publishers, and related industries. Awards were presented at a ceremony in Hong Kong on December 8, 2014.