Published: January 07, 2015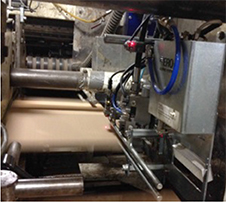 BURTON, MI | It's tough to be perfect when producing millions of custom boxes every year, but customers expect it. If defective boxes turn up in a shipment, customers gladly return them with an accompanying complaint. It's the bane of existence for converters like Landaal Packaging, where factory floor workers sometimes responded to alarms from sensor-based glue detection systems, and searched for bad boxes that were nearly impossible to find or never existed in the first place (thanks to false alarms).
However, recent equipment upgrades—two ERO automated gluer/glue-detection systems and new trim removal systems, all from HAECO—have cut defects to almost nil, made them easier to find, facilitated a 10% production increase, and ended returns of defective boxes.
"We were one of the first converters in the US to try these gluers and detection systems with our automated flexo-folders," said Operations Manager Brian Timm. "Originally we planned to improve our productivity with a simple upgrade to new camera-based glue-detection systems, and we requested some quotes. It was a real eye-opener when we saw the cost of ERO's complete gluer and detection system was less than the camera system alone from others. The ERO was new in the US at the time, backed with a 90-day trial guarantee, so it was an 'offer we could not refuse.' The operators loved it, and the performance and cost made it an easy decision to add the second system."
Landaal, started in 1959 in Burton, MI, converts more than 175 million sq ft of corrugated annually, primarily for customers in the automotive, food, and chemical industries. "We have about 400 customers, and our 'customer retention program' is simple—deliver high quality boxes, on-time," said Timm. "A defective box coming back from the customer is the worst thing you can have in this business, and this equipment allows us to deliver 100 percent quality."
The ERO gluing system is powered by a unique double-piston glue pump, which maintains constant pressure on the glue lines and eliminates variations in glue density caused by pressure pulsation inherent with single-piston pumps. The system's electronic 240-watt, four-channel control panel drives three independent GTE-13/S glue valves to deliver individually controlled glue stripes and precise pattern alignment on the ends of angled flaps. Landaal operators set the flap angle and glue gap the first time, and all other measurements are set automatically. "It took our operators only about half a day to learn how to use the first machine," said Timm. "It's very intuitive and running it in automatic mode boosted our productivity by five to ten percent."
Visions of a better box
Landaal's previous gluing systems had a sensor-type detection system, which had a tendency to trigger false alarms. Time spent identifying and locating defective boxes took a toll on productivity and operator confidence. "Our operators didn't have much confidence in the old detection system, so when a bad-box alarm sounded, we'd sort through the finished bundles to make sure there weren't other defects," said Timm.
The latest ERO systems have a new glue detection system with a 640 x 480-pixel resolution black-and-white camera mounted on the gluing station. The high-resolution camera captures 60 frames per second and is monitored via the control's 12-in. touchscreen. "The ERO only alarms if there is a problem, and our people have a lot more confidence in box quality now," said Timm. "In the rare case we get a defect, the new monitoring system makes it easy to ID and locate bad boxes without requiring system shutdown and searching through stacks of boxes to find the defects."
The ERO's data analyzer, encoder frequency divisor and LED stroboscopic illuminator are all housed in a compact electrical cabinet. The glue detection system is "mastered" by running a well-glued box through it, and an auto-learning system then records the image and compares all other boxes with the good sample. Boxes with glue volume or position outside the tolerance threshold are marked with ink for easy identification.
Keeping tabs (but, not extra trim) on good boxes
Excess corrugated was another trigger for production stops. "Untrimmed tabs triggered the alarm more than anything else," said Timm. "We were using an air powered trim removal system, but when we acquired the new gluer systems we upgraded to a new electric trim removal system." The TRS-2 effectively removes extra trim to ensure proper gluing, and virtually eliminates production stops or post-production searches for defects caused by trim getting caught in the glue station. The TRS-2 is perfectly suited for Landaal's mid- to high-volume operations with its high-performance, long-life DC motor producing up to 18,000 hits/minute, safely removing extra material with wear-resistant straps. It adjusts to accommodate the various sizes of corrugated sheet converted at Landaal, and a unique hub design allows easy, inexpensive strap adjustment and/or replacement, with no tools required.
According to Timm, the new systems have created a more pleasant shop floor environment, and were surprisingly easy on Landaal's capital expenditure budget. "The new trim system is safer for our operators and is much quieter than the air-motor version," said Timm. "These systems also pack a lot of bang for the buck. We went into this looking to improve our detection system and ended up with new gluers and better trim systems, as well. In the end we get a better box and a happy customer. "