Published: December 10, 2014
NORRISTOWN, PA | Rondo-Pak is offering multi-media packaging with interactive technologies that allow for enhanced patient engagement, improved communication for product information, and unique branding opportunities. The packaging is called ideal for starter kits, clinical trial packaging, and product launch kits.
Printed folding cartons open to reveal a video player that can play videos containing specific instructions, special messages, and brand information.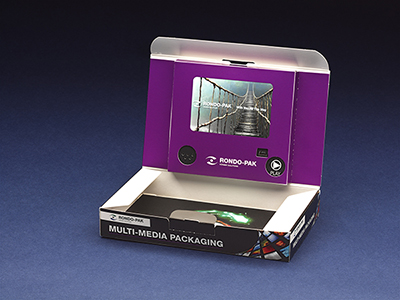 Pharmaceutical or medical device manufacturers can maximize overall equipment effectiveness (OEE) of their packaging line while maintaining the highest standards of quality, safety, and performance, the company reports.
Eco-friendly structures that are 100% recyclable paperboard are made to cGMP standards. Cartons can be child-resistant and senior-friendly. Tamper-evident folding boxes use perforations that tear away when the box is opened. Since there is no glue, labels, or overwrap, they help achieve optimal OEE with lower costs.
Advanced digital printing allows for directly integrated serialization of packaging, which helps prevent counterfeiting and provides robust track and trace functionality throughout the supply chain. Can be imbedded with digitally printed watermarks that provide consumers with an interactive experience using their smart phones.