Published: July 30, 2014
ROCHESTER, NY | Diamond Packaging reports it won two awards, including a Benny Award, the competition's highest honor, in the 2014 Premier Print Awards, the graphic arts industry's largest and most prestigious worldwide printing competition recognizing outstanding achievement in print production. Diamond won a Benny Award and a Certificate of Merit in the "Print/Graphic Arts Self-Promotion" and "Calendars" categories, respectively, for its 2014 apple-themed calendar.
Printing Industries of America (PIA) hosts the Premier Print Awards, which recognizes the creation and production of superior print communications. Now in its 65th year, the annual event promotes excellence in printing and rewards companies and individuals who produce the very best in print media. This year, more than 2,890 entries were received from printing and graphic arts firms from around the world, and judges awarded the Benny to the top entry in each category.
"We are thrilled to have won the Benny Award," said Karla Fichter, CEO and owner of Diamond Packaging. "It's an honor to be recognized by the industry as a company that produces best-in-class packaging."
Michael Makin, president and CEO of Printing industries of America, agrees. "The Benny winners represent the best our industry has to offer. This year's entries were outstanding. There were entries from companies in seven countries. Despite the fierce competition, Diamond Packaging, through hard work and dedicated craftsmanship, produced a piece worthy of the Benny."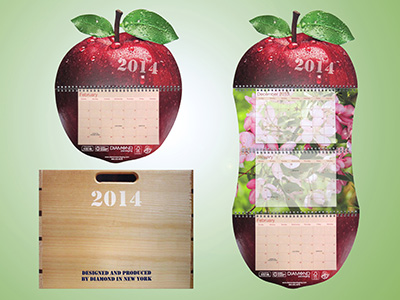 Diamond's three-month corporate calendar is a long-standing company tradition and popular promotional item given to customers and suppliers. The 2014 apple-themed calendar features a simple, yet striking design that represents a natural evolution of Diamond's greenbox initiative and is a fitting tribute to New York, one of the nation's largest apple producing states.
The vivid presentation illustrates in-line green technologies (e.g., soft touch, specialty effects coatings), UV gloss spot coating, foil stamping, multi-level embossing, debossing, and intricate die-cutting. The innovative structural design allows the calendar to be hung with one lower panel, or unfolded to reveal apple blossoms on the middle panels.
The calendar was converted utilizing Clearwater Candesce SBS paperboard and offset printed with four color process inks, in-line with an overall aqueous gloss coating, UV gloss spot coating, specialty effects pigmented coating, and DiamondTouch soft touch coating. Metal Magic provided all of the embossing dies.
Multi-level embossing and debossing the header creates a dramatic sense of texture and depth, while UV gloss spot coating (water droplets) and pearlized coating (leaves) provide a striking contrast to the finish surrounding it.
The middle backers feature multi-level embossed apple blossoms enhanced with soft touch coating, contributing to a unique visual and tactile presentation. The subtle concave die-cut pattern on each side conveys an apple core.
The calendar is delivered in its own recyclable shipper featuring a woodgrain design that faithfully simulates an actual apple crate, right down to the stencil typography.