Published: June 24, 2014
HOLYOKE, MA | Hazen Paper Co. was recently named a finalist for the Luxe Pack in Green Award for environmentally friendly Titleist Golf Ball Packaging. Sponsored by the magazine Beauty Packaging, the juried competition was featured at the prestigious trade fair Luxe Pack New York 2014, dedicated to the packaging of luxury goods, where 200 of the "most innovative packaging suppliers in the world" were showcased.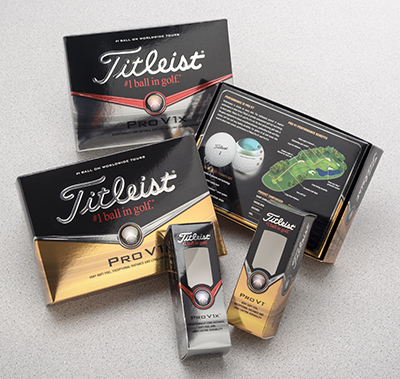 Jury members included George Beylerian and Dr. Andrew Dent of Material ConneXion; Dan Denisoff of Pernod Ricard; Jamie Matusow of Beauty Packaging; Stephanie Martins of L'Oreal; and Henry Renella of The Estée Lauder Companies.
The Titleist Pro V1 Golf Ball packaging delivered on three key objectives: source reduction, enhanced recyclability, and improved premium appearance. Decreasing the weight of the final package, it also reduced shipping costs.
Produced by Curtis Packaging in Sandy Hook, CT, and in Asia, the packaging uses Hazen's recyclable, biodegradable Envirofoil. Envirofoil is a transfer-metallized 16 pt. SBS C1S that reduces aluminum by 95% compared to foil lamination and laminate by 99% compared to 48-gauge metallized film-laminated paperboard. The numbers are significant. In two years, this means 350,000 fewer pounds of aluminum.
Enhancing eco-friendly characteristics even further, Hazen reuses the carrier film multiple times and employs hydroelectric power for metallizing and coating operations. Envirofoil offers double the reflectivity of traditional foil board, and performs better in carton-filling operations, due to its excellent "lay-flat, stay-flat" characteristics, improved score-ability and crack resistance, and lighter weight.
This email address is being protected from spambots. You need JavaScript enabled to view it.
Editor's Note: This package won a Technical Award in the Nonfood Packaging Category in the AIMCAL Vacuum Metallized or Coated Product Competition. For more information, click here.