Published: June 04, 2014
MISSISSAUGA, ON, CANADA | SoOPAK, a new short-run offset printing North American packaging specialist, lured crowds of interested attendees at the SIAL Canada 2014 show held at the Palais des congrès de Montréal from April 2-4. This international food and beverage tradeshow attracts more than 750 exhibitors from 50 countries and 14,000 professional attendees.
"SoOPAK set itself far apart and above other packaging firms and attracted excited crowds to our new business model," says Carol Jiang, president of SoOPak. "We are the first firm ever to put a folding carton business online for the speed and ease of our customers. After two years of research and concentrated effort, my team was able to unveil a new, easy, economical folding carton business on the Internet. For anyone looking for a short-run, unique folding carton, SoOPak can deliver! We posted great success at the SIAL Canada show. It provided us with the opportunity to present our unique product to an international audience of food and beverage manufacturers. We really shook up the show and made a lot of positive noise."
SoOPAK serves the carton packaging needs for a wide range of markets. These include the cosmetic, entertainment, food and confectionary, pharmaceutical, and personal care industries. SoOPAK also produces high quality, attention-grabbing promotional and point-of-sale materials. These items include portfolios, leader cards and tags, inserts, warps, boxes, and displays. To produce this variety of short-run packaging and promotional items, SoOPAK has assembled high quality multicolor offset presses and a high level of system integration, including in-house prepress services, plate making, UV coating, embossing and windowing capabilities. Its well-thought-out system integration ensures a speedy, fast response to customer needs no matter if the customer is based domestically or overseas.
"What makes SoOPAK different than any other folding carton manufacturer," asks Jiang. "We've worked diligently to constantly make our customer experience very positive. We've kept a customer-first mindset and dedication to using technological advances for an easy folding carton order purchase. For example, we have dedicated knowledgeable folding carton consultants for every customer's order. We're the first company with an online folding carton platform to make online ordering easy—providing instant quotes and live support from our product specialists. We bring value to each customer. We don't charge for plates and dies like all the rest. We offer the highest quality offset printing. With as little an order as 500 boxes, we provide our customers with a fast 10 day turnaround time."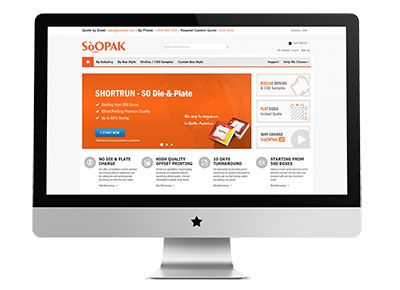 SoOPAK was developed after seeing a widespread demand in the market for high quality, short-run, versatile packaging options. Whether it's a large corporation in need of a small run to test the market or a start-up that needs a small patch of folding cartons for a new product, SoOPAK can provide exciting, vibrant, and affordable options using its high quality multicolor offset presses. SoOPAK responds to each order quickly via its secure cloud-based ordering system.
"SoOPAK can produce the promotional and point-of-sale items that support the marketing for your customers' products packed in high quality short-run folding cartons," says Jiang. "We can provide you with an eye-catching package and image that perfectly reflects your company, while significantly reducing your marketing and overall packaging costs. We can save you time, effort, and as always, money."