Published: March 27, 2014
CHARLOTTE, NC | Masterwork USA, a manufacturer of folding carton and packaging equipment, has installed a new MK 1000FBII high speed automatic folder/gluer to produce folding cartons at Dominion Packaging, a high quality packaging printer headquartered in Richmond, VA. The new folder/gluer arrived for installation in August 2013.
"We are in the midst of a $35 million expansion due to our fast-paced growth," says Brett Hawkins, president of Dominion Packaging. "As part of a second plant that opened in October 2013, we required additional high-tech equipment to better service our customers. The new MK 1000FBII high-speed automatic folder/gluer from Masterwork is part of this expansion and will provide us with new capabilities."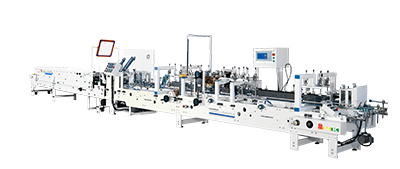 The MK 1000FBII high-speed cold folder/gluer from Masterwork installed at Dominion Packaging offers a maximum side seam carton size of 39 3/8 in. x 26 5/8 in. x 19 1/4 in. and a minimum side seam carton size of 3 1/2 in. x 2 3/8 in. x 1 5/8 in. The machine is able to process paperboard from 200–650 GSM as well as 0.085 to 0.60 pt including E,F,N Flute corrugated and micro corrugated. Its maximum belt speed is 400 meters/minute. Optional features included on this installation are a backfold unit, four- and six-corner attachments, carton alignment unit, and a small carton attachment.
"When a sales representative approached me from Masterwork, I happened to be in the market to purchase a new folder/gluer," relates Hawkins. "After learning more about the company and doing my due diligence to research other folder/gluer models on the market, I decided to place our order with Masterwork. Its machine was priced competitively and it met our needs. We're bringing on a new customer, and we will use the new Masterwork folder/gluer specifically for this new customer's work. We ordered the Masterwork folder/gluer with certain custom specifications to suit this new customer's orders."
Key to Dominion Packaging's success is its ability to provide innovative solutions and personal customer service. Since its inception, the company has consistently been providing exceptional quality products and services that exceed the requirements and expectations of its customers.
"A driving force behind our company is the idea of continuous improvement," says Hawkins. "As such, we are always interested in and actively pursue innovative packaging solutions for our customers and have made substantial investments in equipment and people to support this belief. The purchase of our new folder/gluer from Masterwork is aligned with this policy of investing in new equipment. We feel it will make a substantial contribution to our growth."
Dominion Packaging was founded in 2004 in Richmond, VA. Its 250,000-sq-ft building incorporates an 85,000-sq-ft pressroom running multiple rotogravure presses, a quality control lab, an in-house finishing department, and a 150,000-sq-ft warehouse all completely fenced in on 17 acres of land with a monitored fire protection system and a newly installed state-of-the-art security system. Its multiple rotogravure presses run everything from narrow to wide web paperboard to manufacture: folding cartons, labels, closures, inserts, inner frame, and boxes. Today the firm employs 160 with plans to hire 100 more when the second facility opens in Richmond. Dominion caters to a national clientele serving mainly the tobacco industry, quick service restaurants, and consumer markets.