Published: January 29, 2014, By By Cristina Rossi
Seen from the air, the factory of Pusterla 1880 in Venegono Inferiore (Varese), Italy, has the shape of a horseshoe. The architect and general manager of the company, Giuseppe Meana*, explains that the premises have grown little by little, like pieces of a puzzle, showing one big picture at the end.
Every little piece corresponds to a stage of the complete printing process: quality control, prepress, offset printing, hot foil stamping, die-cutting, and folding-and-gluing, just to name some examples.
The company layout has been modified due to the addition of the Gietz FSA 1060 Foil Commander stamping machine in October 2012. Previously, die-cutting and hot foil stamping were together; now both have their own location. The new space dedicated to hot foil stamping is where, in addition to two Bobst SP 102 BMA stamping machines, the new Swiss Gietz FSA 1060 Foil Commander has been installed.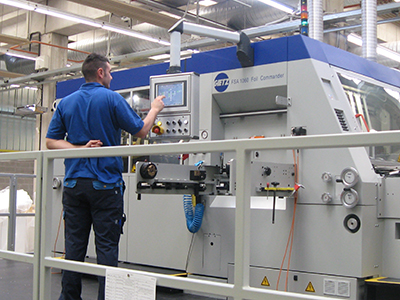 The FSA 1060 claims to offer top quality and productivity. The main features are:
Capable of 390 US tons (350 metric tons) stamping force
Extended and adjustable dwell time under pressure, which permits stamping even very difficult materials
The patented foil transportation system VACUFOIL can run at a maximum speed of 8,000 sheets/hr, even with long foil pulls
First FSA 1060 Installation by an Offset Printer
Gietz AG and Pusterla 1880 have a long history in common: Gietz AG is a family-owned company founded in 1892 by Johann Friedrich Gietz, now managed by the fifth generation. (In 2003, Hansjoerg Gietz, managing director, entered the company.) The roots of Pusterla go back even further. It was founded in 1880, which is reflected in the company name.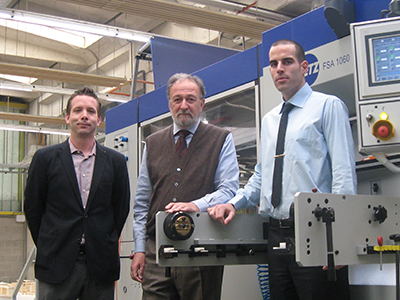 Pusterla 1880 acquired one of the first Gietz hot foil stamping machines in Italy. Hansjoerg Gietz explains that indeed, other Gietz presses have been installed in the country, e.g., at Pesenti Alessandro Srl., Bresso (Milan), which has specialized in hot foil stamping since 1960. However, until October 2012, no Gietz model had been running at an offset printer.
"In 2009, we tested the machine for the first time and were impressed by its extremely innovative technology," explains Meana. "That was the reason why we ordered the Foil Commander in April 2012, one month before Drupa, and installed it six months later, in October. … Since 2005, the new model we have chosen has been installed successfully at other printing houses all around the world and its features are unique.
"What impressed us first of all," Meana continues, "was the easy access to the machine and, what's more, the very easy foil transportation system, which at the same time is highly complex. Some other interesting technical details have influenced our choice as well, such as the regulation of pressure, which conceptually differs from other machines. The machine runs in a two-shift operation every day and is used for hot foil stamping with or without embossing.
"Compared to the other machines in the hot foil stamping department, we use the Gietz mostly for long foil pulls due to its superior production capacity. At this moment we are producing hot foil stamped boxes for champagne Dom Pérignon on very special, exquisite Gmund paper."
Matik Inc. is the exclusive distributor for Gietz in in the US, Canada, and Mexico.
This email address is being protected from spambots. You need JavaScript enabled to view it.
Cristina Rossi is editor-in-chief of the Italian trade magazine Il Poligrafico Italiano. This article originally appeared in the May 2013 issue of "il poligrafico" and is reprinted by permission of the author. It has been translated and edited for use in PFFC.
*Editor's Note: Sadly, since the publication of this article in the May 2013 issue of "il poligrafico," Giuseppe Meana passed away in December 2013.