Published: November 29, 2012
Supermarkets, clothing store chains, and other retail outlets need clear signage with messaging that's sharply and professionally printed to draw in customers. However, point-of-purchase (POP) displays that are printed on both sides of a single piece of paperboard may bleed through to either side if the proper technology is not used. The effect will be accentuated in the light of day, for example, with a storefront window sign.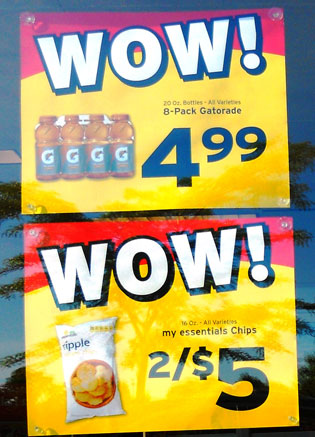 This poor print execution where a customer will see backwards type from the opposite side of the sign looks unprofessional and may confuse the customer because it's difficult to read. This is not a problem, though, if the right paper is used in the print process.
"Think of a deck of playing cards. It's essential that players not see each other's hand, so playing cards are printed on paper stock that has black in the middle that prevents seeing through to the other side of the card," says Mark J. Rowell, president of Mammoth Media, a digital print house in Pembroke, MA. "There are similar solutions for banners and other POP signage that needs to be visible from two sides, with either a different or the same message on each side. If it's in a storefront or other well-lit area, it's even more critical that the right kind of paper stock is used."
New types of "block-out" or "stop-light" papers are created from two papers, with a black adhesive between them, laminated to create one piece. The black center makes the paper opaque, allowing for clean, double-sided, no-bleed-through printing. So viewers only see what they're supposed to see—there's no seeing through to the printing on the other side. "This type of paper is well suited to window applications, because it so effectively blocks direct sunlight," says Rowell. He has used it on many retail POP signage projects, small and large, including major programs that require printing and distribution of materials across a nationwide chain.
One paper Rowell has used for numerous POP client needs is Opacity II, a branded product from Lamitech, a fully integrated paperboard manufacturing company based in Cranbury, NJ. The product has superior print quality for digital, offset, and screen printing, and the standard clay coating works well for two-sided printing. Opacity II is a brighter white than its predecessor, Opacity, and was created specifically to meet the needs of the digital print market.
The availability of the product in sheets up to 70 in., as well as in rolls, makes it versatile to meet Rowell's diverse printing needs. For a project that required printing and distribution to 1,900 retail locations, Rowell says rolls were the right match for the job that required 32,000 sq ft of paper—or about 1¼ miles of printing.
"As a digital provider, a client will come to me with an idea or problem, and they rely on me to come up with the right answer," says Rowell at Mammoth. "In turn, I rely on my paper suppliers to come up with the best fit in often a quick turnaround."
This is another benefit of working with a producer such as Lamitech, according to Rowell, who says the company can produce an order quickly at a reasonable price. "We might call in the morning, and the product will ship that night. They've really adapted to develop product on demand in an increasingly faster moving digital age," says Rowell.
Lightweight and Flexible
In the past, it has been difficult to achieve opacity in a thin-paper format – earlier options included opaque styrene, but it was a thick material. But Opacity II, with its charcoal center and availability in calipers of 0.0085 or 0.011, is said to work perfectly for double-sided print pieces.
The lightweight, flexible paper stock helps reduce shipping expense too, an important factor as transportation costs have continued to increase. Shipping can be a significant budget item for many retailers that often must use overnight services to meet aggressive advertising and promotional campaign deadlines across multiple locations.
The opaque paperboard also is recyclable, biodegradable, and compostable, which is important for businesses invested in sustainable practices and the triple bottom line. Lamitech also offers a broad range of sheet and roll products, including virgin paperboard, cardstock, recycled chipboard, laminated materials, foils, and films for converters in North America.