Published: November 01, 2012
WESTERLY, RI | Maxson Automatic Machinery Co. offers the XSON MSP sheeter for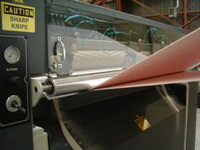 converters of kraft, newsprint, and specialty papers. For sheeted master sizes that are then guillotine trimmed to finish dimensions, company says machine can increase productivity and reduce waste.
Available in widths up to 65 in. (1,651 mm), the sheeter can run at speeds to 1,000 fpm (308 mpm) while cutting up to six webs of newsprint. Outfitted with a dual motor drive system that maintains +0.015 in. (+0.38 mm) cut-off accuracy, length changes are inputted via keypad, reportedly reducing set-up time. Sheeter's compact size requires minimal floor space and only one operator, company says. Lengths to 65 in. (1,651 mm) can be sheeted.
Equipped with air loaded slitters designed for heavy-grade knife weights, the sheeter is said to draw in multiple rolls of paper wrinkle-free and to produce up to five piles across the width of the machine with precision. Makereadies on the sheeter are quick, safe, and accurate, company adds.
This email address is being protected from spambots. You need JavaScript enabled to view it.