Published: August 21, 2012, By Del Williams
As trendsetters such as Walmart have shown, working with suppliers to create sustainable packaging is vital for retailers and manufacturers looking to reduce input, transport, storage, and disposal costs, as well as promote their concern for the environment to consumers. The issue of disposal difficulties with many non-renewable materials has only served to heighten interest in this field and accelerate adoption of sustainable packaging.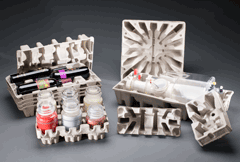 According to a 2011 DuPont global survey of consumer packaged goods companies and packaging converters, sustainability is the top challenge facing the global packaging industry. Of the almost 500 packaging professionals surveyed, 39% cited sustainability as the No. 1 issue, followed by 33% citing cost. Of the survey respondents working on sustainable packaging, 65% said their focus was on design for recyclability or use of recycled content.
Fortunately, with sustainability as their mantra, packaging developers are expanding the possibilities available with advanced, economical molded fiber packaging applications. As a result, more and more retailers, manufacturers, and consumers in markets ranging from the wine and candle industries to health and beauty to consumer electronics are adopting sustainable molded fiber packaging. Today, molded fiber's packaging capabilities range from shipping wine bottles and retail packaging for cosmetics to protective packs for jarred candles, cushions for computers, and inserts for mobile phones.
Newspaper and Water
Molded fiber packaging is made from 100% recycled newspaper, made into a slurry with water, and converted into custom packaging after it is vacuum formed on screened molds. Because it is made entirely from recycled paper and water, molded fiber packaging is 100% recyclable, biodegradable, and sustainable. This reduces input and disposal costs compared to less recyclable, petroleum-based materials.
The molded fiber packaging can be placed in curbside recycling with newspaper or paper products. In some cases, flower or herb seeds can be embedded within the packaging. In these cases, consumers can soak the packaging in water, plant it in their gardens, and have the plants grow.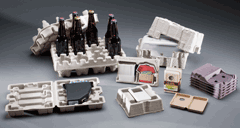 Molded fiber's natural resilience and its blocking and bracing capabilities enable it to perform as well as most vacuum-formed plastic, expanded polystyrene (EPS), and corrugated designs. Not only is molded fiber packaging often less costly than EPS or other foam products, it also requires less space to ship and store, so it frequently reduces transport and storage costs.
Although the demand for recycled packaging has been growing for years, molded fiber traditionally has been associated with items like box inserts, cup carrying trays, and egg carton packaging that had limited consumer appeal.
Recently, however, some packaging industry providers have added specialty equipment and techniques that have significantly expanded the capabilities of traditional molded-fiber packaging. For instance, UFP Technologies, Georgetown, MA, a custom converter of molded fiber in the US for more than 20 years, has added high tonnage presses capable of producing after-pressed parts with more aesthetic appeal than traditionally formed molded fiber.
When Philips Consumer Lifestyle, a business unit of Royal Philips Electronics, the global diversified health and well being company, chose molded fiber, the goal was to align the packaging with its EcoVision5 corporate sustainability target to "double global collection, recycling amounts, and recycled materials in products by 2015 compared to 2009."
Philips Consumer Lifestyle previously packed large protective PET blisters inside retail cartons for Norelco shavers and Sonicare toothbrushes. The change to smaller PET blisters combined with protective molded fiber packaging has improved sustainability and branding and reduced costs.
"The molded-fiber packaging is made from 100% recycled newsprint, so it's a more renewable, environmentally friendly material than petroleum-based plastics," says Jeff Wood, senior commodity manager for Philips Consumer Lifestyle, Packaging and Print.
"Switching from large to small PET blisters, along with custom protective molded-fiber packaging from UFP Technologies, has reduced our use of plastic packaging content by 75% and saved hundreds of thousands of dollars in material costs," adds Wood. According to Wood, after-press operations provide a smooth, precise finish to the molded-fiber, improving the aesthetic and the "out of the box" experience of the consumer.
Unlike most molded fiber manufacturers, UFP Technologies is not limited to the production of standard end caps, trays, and box inserts. Its after-press capabilities allow for a smooth finish on two sides and the ability in manufacturing to hold a design's tolerance much more closely. This enables the creation of retail friendly packaging options like folding cartons and clamshells with high aesthetic appeal that conveys a sustainable cachet. [SMALL PHOTO]

Using color to accentuate branding is possible, as was done when dark purple was added to molded fiber trays for the BlackBerry smart phone. (When the material is in its pulp stage, it is a light gray color. Dye can be added to match a customer's desired color. Because the dye is food safe, it biodegrades with the product; there is no de-inking process needed prior to recycling.) Other packaging applications that have fueled growth have been after-pressed trays, clamshells, and inserts featuring not only color but clearly embossed customer logos.
Today, molded fiber packaging is winning awards and promoting the environmental concern and image of the manufacturers who use it.
Recently, for instance, Grafcor Packaging, a Rockford, IL-based designer, developer, manufacturer, and distributor of packaging materials for the food, beverage, healthcare, and beauty markets, won a prestigious packaging award, the Ameristar, in the Beverage category for a unique 12-bottle molded fiber wine shipper that passed UPS and FedEx tests.
To create a wine shipper that combines the sustainable, protective cushioning of molded fiber with the tough, vibration resistance of corrugated, Grafcor Packaging partnered with UFP Technologies. The wine shipper, called "Bottoms Up," allows wine bottles to be safely shipped cork down to prevent cork drying (which prevents oxygen entry to the bottle).
"Unlike bulky, petroleum-based EPS, molded fiber is completely sustainable, recyclable, and biodegradable," says Bill Hall, owner of Grafcor Packaging. "Because the molded fiber ships at about a 4:1 ratio by truckload compared to EPS, it also can save in transport and storage costs."
"In working with thin-walled custom molded fiber, getting the depth of the draw and the size of the part right was challenging, and we wouldn't have succeeded without engineering and production help from UFP Technologies," says Hall. "Their willingness to ramp up production in late October, in the midst of the busy holiday season, also helped us to meet strong demand in the marketplace."
Based on the success of the molded fiber wine shipper, Grafcor Packaging is adapting designs to ship beer, spirits, and coffee syrup, which often must protect glass bottles from breakage.
Because of molded fiber's sustainability, unique look, and environmental cachet among consumers, Hall also thinks that the material would work with health and beauty applications. He sees molded fiber's applications expanding to include folding cartons or clamshells that use after-pressing for a smooth finish, and embossed logos for enhanced branding.
"Retailers, manufacturers, and consumers are responding to molded fiber's sustainability and unique look," concludes Hall. "Its craft fiber appearance accentuates the fact that it's made from 100% recycled paper. With the help of custom developers like UFP Technologies, what's possible is expanding to the point where everyone should take a look."
This email address is being protected from spambots. You need JavaScript enabled to view it.
Del Williams is a technical writer based in Torrance, CA.