Published: August 17, 2012
WESTERLY, RI | Maxson Automatic Machinery Co. offers the SDFK sheeter suited for coated plastic films. Features a continuous operating system that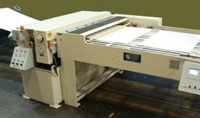 allows sheeted material to be accumulated until complete pile is removed.
Reportedly, manufacturers of coated plastic film can now sheet the product at higher speeds than conventional drop shear equipment, while ensuring the square, accurate dimensions required by the printing industry.
The cutting section includes knives mounted in an upper and lower rotating cylinders. The cylinders accelerate and decelerate during each revolution so the peripheral speed of the blades and the speed of the web are equal at the cutting point, maintaining sheet length accuracy and squareness. This cutting action eliminates the skive along the leading edge and trailing edge on thicknesses to 0.060 in. (1.5 mm) thick, without producing slivers. Using an exclusive clash arrangement, the operator can safely adjust the cross cutting blades while the cutter is running.
Sheeter can handle cut lengths from 11–2,000 in. (279–51,000 mm) at speeds to 300 fpm (90 mpm). Out-of-spec sheets or sample cuts used for quality assurance inspections can be diverted from the sheet flow to the stacker to a customer-supplied bin.
This email address is being protected from spambots. You need JavaScript enabled to view it.