Published: August 10, 2012
MILWAUKEE, WI | Eight months ago, Northern Sheets, McClellan, CA, a Schwarz Group managed facility, installed a WPS Global Inc. energy management solution in its 80,000-sq-ft facility. The main goals for the installation were to reduce energy costs and obtain cleaner electricity with fewer spikes and surges.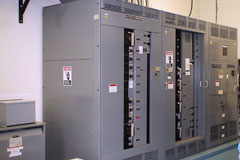 To help offset the cost of installing the system WPS Global had prepared for its facility, Northern Sheets researched the incentives available to it from the State of California. The company learned of the Sacramento Municipal Utility District's (SMUD) rebates and incentives to encourage area businesses to invest in energy efficiency.
To apply for a rebate, Northern Sheets prepared a project proposal and submitted it through the agency that manages the funds for Sacramento County. "The process was not difficult. We simply had to wait until funding was available for our project," explains Guy DeYoung, general manager, Northern Sheets.
Even without the rebate, Northern Sheets would have made the WPS Global installation investment. "It's proven to be a valuable tool for surge protection, sustainability initiatives, and energy savings," adds DeYoung. "The rebate is simply icing on the cake."
Northern Sheets fully expected the installation would achieve a 15% reduction in energy costs, and since the November 2011 installation, the company is already ahead of its target results.
DeYoung is not surprised based on what he'd heard first-hand from other corrugator and sheet feeder plants. Northern Sheets discovered WPS Global by word of mouth. "WPS Global has installed successful energy management solutions within many other Schwarz Group managed facilities. According to DeYoung, those facility managers were very anxious to share how their WPS Global system has resulted in energy savings, improved power quality, lightening protection, and reduced emissions.
The 10% Guarantee Makes it a Low-Risk Decision
WPS Global offers a 10% reduction guarantee, and combined with flexible leasing options, assures customers a prompt return on their investment. "For example, one of our early adopters chose a 36-month lease payment and earned a positive monthly cash flow during the leasing period. Now post-lease, this sheet feeder enjoys savings that are entirely pure profit," explains Bill Behrmann, senior systems designer, WPS Global.
To find available rebates and incentives, DeYoung recommends facility operators contact their local utility company, and/or the local government agencies that manage energy supplies in their area. The utility and agency websites also can often provide some helpful information.
This email address is being protected from spambots. You need JavaScript enabled to view it.
Related Article: Niagara Sheets Cuts Energy Costs