Published: July 17, 2012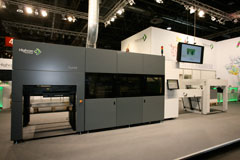 YAVNE, ISRAEL | Highcon reports that European packaging company Chesapeake, Old Amersham, Buckinghamshire, UK, plans to expand its digital capability by investment in the Highcon Euclid digital cutting and creasing machine. The company signed the agreement at the recent drupa show where Highcon was showing the Euclid to the public for the first time.
"We have been following the progress of the Highcon technology for some time," said Dougie Potter, technical services director of Chesapeake, "and were delighted to see it perform live at the show. We believe the addition of this unique digital solution can complement our existing equipment and offer more flexibility to better serve the needs of our customers."
Highcon reports setup time is reduced to minutes and will allow converters to be far more responsive to their customer demands.
This email address is being protected from spambots. You need JavaScript enabled to view it.