Published: May 11, 2012
Innovative vacuum packaging that reduces food waste by keeping meat looking and staying fresh longer took top honors in last night's DuPont Awards for Packaging Innovation in Wilmington, DE. Retail packaging that boosts shelf appeal, a robust packaging recycling project, and modular industrial packaging that cuts waste and cost captured gold honors.
Several leading brands—Heinz, Kraft, Pepperidge Farm, Cadbury, and Unilever—also took home diamond, gold, or silver awards in the 24th DuPont Awards for Packaging Innovation, the industry's longest-running, global, independently judged celebration of innovation and collaboration throughout the value chain.
"The 2012 Diamond winner exemplifies the role packaging plays in helping to feed a growing population around the world. "FreshCase packaging technology for meat, selected by the jurors as this year's Diamond winner, addresses the important effort to help ensure food maintains its nutritional value and freshness," said William J. Harvey, president of DuPont Packaging and Industrial Polymers. "In the face of a growing population with limited resources, food waste from spoilage must be greatly reduced, and innovative packaging solutions will play a critical role in that story."
An expert panel evaluated 200 entries from 21 countries and awarded one diamond winner, five gold winners, and 10 silver winners based on "excellence" in one, two or all three categories: Innovation, Sustainability, and Cost/Waste Reduction.
"The common thread was a focus on collaboration," said lead DuPont Awards juror Brian Wagner, VP, Packaging Technology Integrated Solutions, a HAVI Global Solutions Direct Co. "It wasn't just one company doing it by themselves; they leveraged their suppliers strategically. There was a real focus on consumer insight on the impact of packaging at shelf and throughout the user experience."
Following are highlights of some of the top awards of interest to converters. For a complete list of winners, images, and insights from jurors, click here.
Diamond Winner—Excellence in Innovation, Cost/Waste Reduction and Sustainability
FreshCase Packaging for Fresh Red Meats by Curwood Inc. – A Bemis Div. – USA
FreshCase packaging is the first-ever, vacuum package for red meat that maintains the meat's appetizing color through a found-in-nature proprietary additive in the contact layer of the barrier package. Traditional vacuum-packaged meat is "purple," deemed distasteful by many consumers who equate color with freshness. FreshCase packaging also extends shelf life ten times longer than store-wrapped meat. The combination of longer shelf life and more appetizing appearance promises to both reduce food waste and increase the availability of proteins in areas further away from food sources.
As an alternative for modified atmosphere (MAP) master packs and packages using EPS/PVC resin technology that dominate the case-ready meat segment, FreshCase enables 75% less markdowns/waste than store-wrapped meats, less landfill waste and reduces packaging materials up to 75%, compared to other case-ready formats, thereby improving sustainability.
Gold winners
Pepperidge Farm Deli Flats thin rolls and Goldfish Sandwich Bread (Flats)—Packaging by Pepperidge Farm; CP Flexible Packaging; Printpack Inc.; Sealstrip Corp.—USA Honored for Excellence in Innovation and Waste Reduction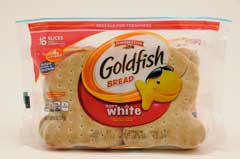 With their new package design, Pepperidge Farm Deli Flats thin rolls and Goldfish Sandwich Bread (Flats) bring life to the bakery aisle and radically change how bread is displayed. This new package features a horizontal flow wrap package made of a film lamination that provides excellent seal strength, tear resistance, increased barrier for longer shelf life, and with a reverse printing process, outstanding shelf appeal. Traditional closures are replaced with a pressure-sensitive Sealstrip closure that provides excellent resealability, ensuring that the product stays fresh. Removal of the tray component enables 65% less material to be used. Because 25% more packages can be shipped in the same amount of space as the original package, there is a reduction in transportation costs. This is an outstanding example of how innovation can be simple and affordable for consumers, while making a splash on store shelves.
Ciclo Verde Taeq—White Tea by Grupo Pão de Açúcar; Papirus—Brazil—Honored for Excellence in Sustainability and Waste Reduction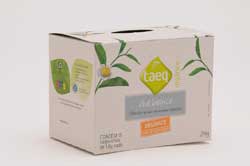 Ciclo VerdeTaeq is a closed-loop system that brings recycled materials into the production of high-value products instead of being used to make lower value articles and enables societal benefits. Ciclo Verde Taeq begins with the collection of recyclable materials at Grupo Pão de Açúcar stores, and all the materials are donated to cooperatives made up of more than 660 low-income families in Brazil. After sorting the materials, the cooperatives sell the cellulosic material to Papirus, a paperboard manufacturer, who sells its material to be used to produce new packaging for Taeq products. Since 2010, more than 600 tons of cellulosic material has been collected and used for Taeq packaging. This recycling system diverts materials from landfills, conserves natural resources, enables consumers to do their part for the environment and generates earnings for the low-income families.
"THE CUBE" (Packaging System) by Smart Packaging Systems; My Compadre LLC; Impact Mfg.; Incrementia Inc.; One Way Display; Acme Packaging, an ITW Co.—USA/Canada—Honored for Excellence in Innovation and Sustainability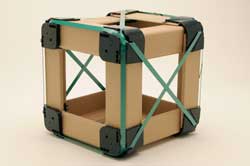 THE CUBE reinvents retail and industrial packaging, enabling merchandise to go straight from the manufacturer's production line, onto a delivery truck and then right onto the retailer sales floor, eliminating costs while simultaneously increasing sales per square foot. The patented system overcomes many of the challenges facing materials handling: it reduces the number of pallets and amount of shrink wrap needed, eliminates the need for corrugated materials and enables an attractive, durable and effective display of the product. Labor needed to stack and display merchandise is reduced, and easy disassembly and reassembly makes it easy to reuse. Made of a special engineered 100% paperboard lamination and a combination of recycled and virgin fibers, THE CUBE was the first design to meet the display labor savings and Environmental, ISTA Testing directives from WAL-MART.
Soft Flexible Divider by ITB Packaging LLC—USA—Honored for Excellence in Innovation and Cost Reduction
ITB Packaging LLC developed a new manufacturing process to create high quality packaging dividers that are easy to assemble and use, reducing labor costs. The dividers are made of lightweight, soft, flexible materials to cushion contents during transit and flatten when not in use, allowing for easy storage and transport. Compared with bulkier, more rigid, die-cut corrugated dividers, the ITB Packaging system significantly reduces shipping and storage requirements. ITB Packaging creates both reusable and expendable dividers.
The innovation represented by the DuPont Awards winners is one part of the solution need to improve global food security. For more information on DuPont's initiatives to address food security issues, visit http://foodsecurity.dupont.com/.
DuPont Packaging & Industrial Polymers manufactures an extensive mix of adhesive, barrier, peelable lidding and sealant resins and provides a globally networked development team to work with customers on packaging programs that help protect the product, environment, improve shelf appeal, convenience and reduce cost in the food, cosmetics, medical products and other consumer goods and industrial packaging industries.
For additional information about DuPont and its commitment to inclusive innovation, please visit www.dupont.com.