Published: April 10, 2012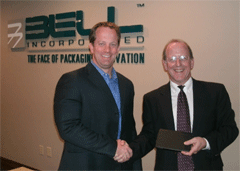 A contest conducted by Gallus at its booth at the Paperboard Packaging Council's recent Spring Meeting in Louisville, KY, challenged carton printers to see if they could distinguish between folding cartons printed using flexography or offset printing.
Each contestant was given a folder containing three printed carton samples, two printed using flexo and one using offset. There was no time limit, and contestants were allowed to use a loupe, or any other method they pleased to determine how the cartons were printed. A label affixed to the back of each carton instructed them to circle their choice of printing process from flexo, offset, or gravure.
Of the 22 contest entrants, who represented a cross-section of the folding carton industry, only one identified all three samples correctly. Congratulations to Ben Arndt of Bell Inc., Sioux Falls, SD, who was awarded a Kindle Fire for his winning entry.
The contest's objective was to show how well modern-day flexography reproduces complicated graphics, close-tolerance process printing, and is virtually indistinguishable from offset. That only one of 22 was able to correctly spot the processes reinforces the reality that flexo no longer needs to take a back seat to offset with regard to print quality.