Published: March 09, 2012, By Claudia Hine
London may be the scene of the summer Olympics in July and August, but Dusseldorf, Germany, will create a stir in May as host city of the "Olympics of printing" May 3-16 when drupa 2012 opens. Organized by Messe Dusseldorf, drupa will cover prepress and premedia, print, postpress, paper converting, paper and substrates, as well as inks and consumables, components and infrastructure, and services and software.
To learn more about the show, click here.
Competition for your attention will be fierce as suppliers have a lot at stake in exhibit space and new product launches. Here's what to expect:
Atlas Converting Presents New Slitter/Rewinder Technology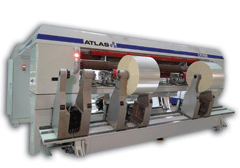 BEDFORD, UK | Atlas Converting Equipment (Hall 12/Stand 12-D67) will present its new CW Series technology platform for ATLAS primary and secondary slitter/rewinders for film & flexible materials, which introduces the next generation of more compact film slitting solutions in web widths from 2.5–10.4 meters (98–410 in.). Delivers higher efficiency, increased productivity and reliability, higher quality rewind rolls, reduced noise levels, and more effective, operator-friendly control systems.
Technology also features wireless rewind arm positioning, automatic knife positioning, direct drive web path rollers, and running speeds to 1,500 mpm (4,920 fpm) with more precise web tension control.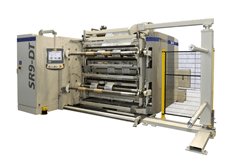 The new Titan SR9 Series slitter/rewinder platform not only provides much higher performance and improved productivity, but it also provides a more flexible and sustainable solution. The platform featured three separate machine modules of unwind, slitter, and rewind sections. The converter need only change the rewind section of the slitter from a Dual Shaft (DS) to a Single Turret (ST) or Dual Turret (DT) configuration to meet changing production requirements without the need to change the existing unwind and slitting modules.
Autobond Shows off Inkjet SPOT UV Technology
DERBYSHIRE, ENGLAND | Autobond (Hall 11, Stand A23) will be exhibiting a host of new technology, including a new high speed laminator and two LED inkjet spot UV machines on its stand, adding to its already extensive range of machinery designed to enhance and protect print.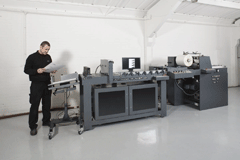 Autobond's inkjet spot UV technology will be demonstrated, including the Mini 36 TPM-36 SUV, launched in May 2011. The innovative technology offers the ability to laminate and spot varnish in-line in the same pass, and in short runs.
In addition, a new off-line inkjet spot UV machine will be launched, the 52 SUV-SDF, a B2 portrait inkjet spot UV machine with Heidelberg-Stahl suction drum feeder.
Another machine set to be launched at drupa is the Mini 105 TPHS, a new high productivity thermal laminator. Capable of producing lamination on one side, or on two sides in one pass, the machine has an impressive maximum speed of 120 mpm (10,000 B1 landscape sheets per hour).
CGS and FFEI Collaborate at drupa
Minneapolis, MN, and Hemel Hempstead, UK | Following a joint announcement that CGS Publishing Technologies Intl. (Hall 08b/A66) is distributor for FFEI Ltd. (Hall 5/C18), both companies will collaborate on powerful solutions for the packaging industry.
RealVue 3D Packager is a revolutionary approach to the challenges of folding carton packaging design. Working effortlessly with DXF, PDF, and Adobe Illustrator (AI) files, the program allows designers and brand managers to create accurate visual prototypes, including difficult elements like embossing, substrate textures, cut-outs, and metallic inks.
RealPro Workflow System is an automated workflow solution for digital and conventional presses. With its modular, scalable approach based on Adobe APPE core technology with fully integrated imposition, it seamlessly links to leading MIS, Web2Print and digital press controllers (DFEs) with full JDF compliance. New software options provide comprehensive tools for labeling and packaging print service providers.
ORIS Press Matcher // Web is the industry-leading system for producing accurate, consistent color on any digital printing device. Press Matcher has been embraced by multi-site users of digital presses from HP, Xerox, and other manufacturers, as well as wide-format systems for multiple applications. For packaging service providers—especially those using Roland printer/cutters—ORIS allows accurate, consistent reproduction of challenging spot colours and metallics, providing physical prototypes of the highest quality, at a fraction of the time spent using traditional systems.
DALIM SOFTWARE Will Release ES 3
KEHL, GERMANY | DALIM SOFTWARE (Hall 7a, Stand D07) will highlight the latest release of its customer-facing online production management platform, ES (Enterprise Solution). Visitors will see ES 3's redesigned user interface that makes it easier to access, manage, control, organize, and sort projects and files. This latest version of the ES platform also includes a PDF-enriching option, and an API for easy connectivity with third-party applications.
New features include Smart Folders, a check in/check out tool, and Project Data Management that creates subdirectories that organize project content--such as text and pictures--into meaningful, descriptive folders.
DALIM SOFTWARE will also show new enhancements to TWIST and DIALOGUE Engine.
DGM CO. TO EXHIBIT TWO MACHINES
GUANGDONG PROVINCE, CHINA | DGM Co. Ltd. (Booth 11C 44), which has a 20-year history in the industry, specializes in automatic folding/gluing, automatic laminating, and automatic die-cutting machinery. The company will display the ES-800SL folder/gluer machine and the BC-1050S die-cutting machine.
DuPont Packaging Graphics Features New Flexo Plates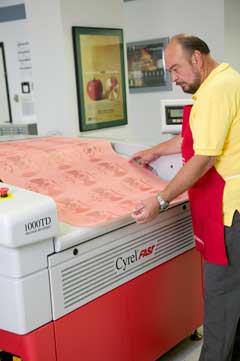 WILMINGTON, DE | DuPont Packaging Graphics (Hall 8b/C24) is highlighting a range of new flexographic printing plates to enable higher quality output at high speed.
In response to growing demands for higher solid ink density (SID), DuPont has developed a new digital plate formulated specifically for highest SID combined with excellent dot gain characteristics. True next-generation plates with re-engineered print surface technology, the DuPont Cyrel solvent-process DSP and the DuPont Cyrel FAST DFP are standard workflow digital plates designed for flexible packaging printers requiring high densities, good minimum dot size and low dot gain. These new plates are designed to achieve higher solid ink density while maintaining high resolution, low dot gain, and excellent run length. Since these plates work in a standard digital workflow, they do not require expensive investments in digital prepress and digital technology. They are fully functional with all standard-LAMs-based platesetters.
Another highlighted plate will be the DuPont Cyrel DFR, a next-generation high durometer digital Cyrel FAST plate for package printers requiring a plate capable of holding the highest screen rulings, fine detail, and the widest tonal range. A long-running, clean-printing plate suitable for most ink types and substrates, DFR provides improved processing at all gauges, improved limpness for easier plate mounting, and cleaner printing for greater press productivity and longer plate life. DFR is well suited to both a standard digital workflow and DigiFlow. DuPont anticipates Cyrel DFR will become the workhorse of its high durometer digital Cyrel FAST portfolio.
Durst Launches Digital UV-Inkjet Label Press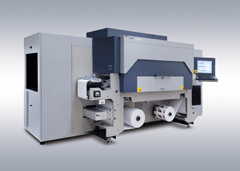 ROCHESTER, NY | Durst (Hall 6, Booth C60) will launch the first UV inkjet digital device to print on a 13-in. wide web. The Tau 330 UV inkjet digital label press features a maximum printing speed of 157 linear fpm, reaching an hourly production capacity of 10,222 sq ft. It also will be available in an 8-in. print version.
Image quality is achieved with proprietary Single Pass UV Inkjet Technology, featuring Xaar 1001 print heads with a print resolution of 720x360 dpi, with drop on demand, variable drop size and grayscale technology that results in an apparent image resolution of more than 1,000 dpi.
Standard CMYK color configuration can be augmented with opaque White UV ink plus the process colors Orange and Violet, essential for precision Pantone color matching.
Esko To Launch Finishing Table
GENT, BELGIUM | Esko (Hall 8B, Stand A23) will launch the Kongsberg XN finishing table with an upgrade of i-cut Suite, including the i-cut Automate. Capable of handling the broadest variety of materials, the new table serves all markets from packaging to sign making and displays.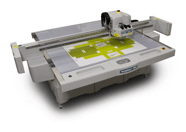 The Kongsberg XN can be equipped with a more powerful milling spindle, called the MultiCUT- HP. With this new high-powered tool head, the Kongsberg XN offers up to three times more milling productivity. Thanks to the power-saving variable vacuum hold-down technology, it consumes less energy.
Also on display is the CDI Spark 4835 Auto with unique digital Inline UV 2 exposure, along with the CDI Spark 2530 with Inline UV and magnetic drum.
Esko releases Pixel+, an optical, electronic, and screening enhancement for HD Flexo imaging to support flat top dots creation, a solution for those customers that use partner technologies for the oxygen-free curing of imaged plates. The benefit lies in the combination of Esko HD Flexo screening and flat top dots support for DigiCorr, DigiFlow, Lux and Next, the flat top dot solutions of other digital flexo plate vendors.
FLEXO CONCEPTS Introduces Wash-Up System
PLYMOUTH, MA | Flexo Concepts (Hall 11, Stand C34) will introduce QuikWash, a system that cuts wash-up and solvent consumption in half by using an exclusive plastic blade to improve effectiveness. The system makes it possible for printers to retrofit their presses to leverage the benefits of a plastic wash-up blade.
The system consists of a wash-up blade clamp that attaches to the existing wash-up tray and uses the company's TruPoint DeltaFlex plastic wash-up blade, which is constructed from a durable, rigid material that enables it to achieve and maintain a fine contact point with the roller. It is this fine contact point that results in more efficient wiping and wash-ups that can be completed in half the time. Customers have reported a substantial improvement in wash-up quality and a reduction in wash-up times after retrofitting their presses with this product.
The company also will feature a line of traditional plastic wash-up blades in addition to its TruPoint line of plastic and composite doctor blades and MicroClean dry media anilox cleaning systems.
Fujifilm Offers Range of Ink Solutions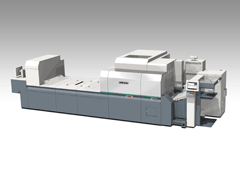 TOKYO, JAPAN | Fujifilm (Hall 08B/A25-1) is launching Vividia high performance inks tailored to commercial and packaging print applications for its single-pass digital inkjet presses. Fujifilm will feature the Jet Press 720, which uses Vividia AQ ink and Samba printhead.
Fujifilm will unveil a B2 digital inkjet printing solution specifically designed for folding carton production. The company also will showcase its new FLENEX DLE CTP system and UVivid range of narrow web inks. (Contributed by Katherine O'Brien, senior editor of American Printer Div. of OutputLinks)
GMG To Present Revolutionary Spot-Color Technology
TUEBINGEN, GERMANY | GMG (Stand B25 in Hall 4) reports it will present a groundbreaking spot-color tool for package printing, with a breakthrough in the calculation of profiles for simulating the combined printing of spot and process colors. GMG OpenColor will greatly extend color control and repeatability in the packaging market.
GMG also will unveil CoZone, its intelligent response to various softproofing issues. Co-Zone is a comprehensive cloud solution for professional media and color management users that the company says will redefine how color management is used in the future.
The company also will show its GMG ProductionSuite for the growing wide-format market and further developments of its established proof and color management solutions.
Goebel To Demonstrate KPW 3 Slitter/Rewinder
DARMSTADT, GERMANY | GOEBEL Schneid- und Wickelsysteme GmbH (Stand 10C48) will demonstrate the fully automatic KPW 3 slitter/rewinder, a two-drum winder suitable for cash register, ATM, and other small rolls.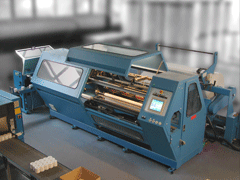 The machine processes coated, uncoated, and thermal papers up to a working width of 1,600 mm and at a speed of up to 600 mpm. The minimum slitting width, depending on the equipment version, is 37 mm. The complete production process—from unwinding of the material to the packaging of the finished rolls—runs fully automatically.
The KPW3 has a very fast responsive web tension control; it ensures optimal tension of the paper throughout the entire winding process. The spreader roller before the slitting unit ensures wrinkle-free feeding of the paper web and perfect finished roll separation. After reaching the pre-set paper length, the paper is cut automatically by a cross-cutter before an automatic gluing system seals the tails of the rolls. Then the rolls are transported into the packaging unit. A core loader simultaneously charges the rewind shaft with new cores before the next winding cycle starts.
Goss Presses Reshape Debate on Package Printing Methods
DURHAM, NH | Goss Intl. (Hall 17/A59) has reinvigorated the debate about printing processes for packaging with the assertion that changing requirements— combined with its own new press technology—create the right conditions for a wider adoption of web offset for folding carton, flexible packaging, and label applications.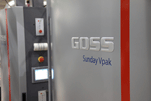 Goss Sunday Vpak variable sleeve presses introduce an entirely new way to exploit the inherent print quality, cost, and agility advantages of web offset, according to Peter Walczak, director of product management for packaging presses. "With new variable sleeve press technology available in web widths up to 1,905 mm (75 in.) to address these requirements, the time is right to consider, or reconsider, web offset alternatives to flexo, gravure or sheetfed offset for some applications," Walczak adds.
The new Goss Sunday Vpak presses print at up to 457 mpm (1,500 fpm). The result is output capabilities up to 200% higher than those of a sheetfed press, along with reduced substrate costs, greater substrate range, and inline converting. The Sunday Vpak 3000 and Sunday Vpak 500 press models feature quick-change blanket and plate cylinder sleeve adapters, which make infinitely variable repeat lengths easier and more affordable.
Heidelberg Highlights Short Run, Package Printing
HEIDELBERG, GERMANY | Heidelberg (Hall 01/A01-1) will highlight web-to-print, short-run printing, and package printing. The new Speedmaster SX 102 combines the XL series with the SM 102 platform. On the UV front, Heidelberg will debut an energy-saving single-lamp configuration for conventional as well as highly reactive UV inks and coatings.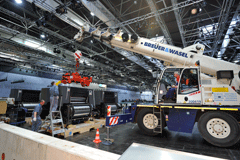 The Heidelberg Linoprint L (formerly iTS6oo) is based on its CSAT acquisition and is a DoD system for producing complex short to medium-sized label and film runs and applications with variable content. Applications include smart labels, security printing, and traceable labels. Printing is done with four colors (CMYK) and intermediate drying (pinning) assures high quality. The modular system can be ordered in other configurations, such as 6-c Hexachrome. (Contributed by Katherine O'Brien, senior editor of American Printer Div. of OutputLinks)
Heidelberg will be the largest exhibitor at drupa, presenting about 60 innovations under the "Discover HEI" banner. The company will build five complete "Hei-Tech" print shops in Hall 1. In all, 12 presses and 11 postpress machines will be installed at the booth.
The entire trade show presentation will be climate-neutral, which means CO2 emissions for all processes and materials related to the show will be offset. The monetary equivalent of the CO2 emissions will go toward a reforestation project in Togo.
Highcon Announces Cooperation with Duran Machinery
YAVNE, ISRAEL | Highcon (Hall 4, B28) has been cooperating with Duran Machinery (Hall 10, E59) to perform digital cutting and creasing on folding carton packages that then pass to Duran's leading Omega folding/gluing machines. More information can be found at their respective booths at drupa.
Chris Baker, HIghcon VP sales and business development, says, "Once packages have been cut and creased on the Highcon Euclid, they need to continue smoothly to the folding/gluing station. Therefore, we are delighted that one of the industry leaders has agreed to cooperate with us. We firmly believe the new Highcon Direct to Pack category will be an industry game-changer.
Pinar Kucukaras, Duran Machinery sales and marketing director, says, "Duran Machinery has already demonstrated its commitment to packaging solutions. We have been impressed with the direction that the Highcon team is taking and are pleased to be able to cooperate on ensuring a seamless integration with our machines, which are installed in over 50 countries around the world."
HP Offers New Print Profit Opportunities
PALO ALTO, CA | HP (Hall 4) will showcase new digital printing solutions and applications that help print service providers (PSPs) grow their businesses and deliver higher value to their customers. At 53,300 sq ft, HP will have drupa's second-largest exhibit.
HP's stand will feature its broad range of graphic arts technologies, including:
HP also will show complete end-to-end solutions, including new HP SmartStream workflow solutions; the HP Exstream customer communications management solution; HP web-to-print and MIS solutions based on Hiflex technology; advanced HP service and support offerings; and third-party software and finishing systems from HP Graphics Solutions Partner Program members.
The stand also will feature a full range of tools and programs available to PSPs through the HP Capture business development program, including the DSCOOP (Digital Solutions Cooperative) HP users' group.
Drupa visitors from nearly every segment of the graphic arts industry will see production solutions to meet their business needs, with the HP stand divided into demonstration areas for general commercial; photo specialty; publishing, direct mail and transaction printing; labels, flexible packaging, and folding cartons; and sign and display printing.
jeco plastic products to show pallets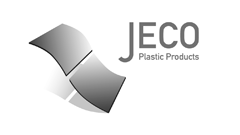 PLAINFIELD, IN | Jeco Plastic Products (Stand 02/B54) will display its durable pallets and containers for the printing industry. Jeco's poducts also may be seen at the show on the stands of partners Heidelberg (Hall 01/A01-1), Sakurai (Hall 3/A90), Muller-Martini (Hall 14, Booth C21), and Horizon (Hall 13/D36-2), as well as at the Heidelberg factory in Wiesloch, Germany, where large format offset demonstrations will be held.
Jeco CEO Craig Carson says, "Printers and manufacturers who supply them around the globe have long relied on the precise tolerance, dimensional stability, and exceedingly long life of Jeco pallets. Exhibiting at drupa every four years enables us to reach virtually every corner of the industry and to renew acquaintances with customers throughout the world."
Kodak Offers Innovative Direct Engraving Technology
ROCHESTER, NY | Kodak (Hall 5, F09-1) will have its FLEXCEL Direct System running at its stand. The system uses innovative, energy-efficient, high-power laser engraving to produce superior quality press-ready elastomer sleeves with increased production throughput.
The FLEXCEL Direct System joins the award-winning Kodak FLEXCEL NX System in an impressive line-up of flexographic solutions from Kodak that are designed to increase shelf impact while driving production efficiency.
"The FLEXCEL NX System remains our flagship solution and has revolutionized the flexo plate industry with high-definition flexo printing that is consistent and cost-effective to produce," commented Mohan Garde, Kodak's VP and general ganager of Packaging Solutions Business. "With the addition of the FLEXCEL Direct System to the portfolio we can now make affordable, high-quality ITR flexo sleeve production a reality and demonstrate Kodak's ongoing commitment to deliver truly differentiated solutions into the packaging segment."
Kodak will unveil additional enhancements for the NEXPRESS Digital Color Platform, which include a new turbo mode, 36-in. (914-mm) long sheet option, and Intelligent Calibration System (ICS) version 3 software. The enhancements are designed to help printers improve image quality, application flexibility, and production speed.
As a main event at the Kodak stand, the popular K-Zone, a live presentation theater, features dynamic, unscripted discussions with industry experts, product representatives, customers, and strategic partners. With more than 60 live sessions scheduled during the show, the K-Zone includes interviews with Kodak's Lighthouse Customers, who will share their successful business strategies in the transition to digital printing. Also scheduled are panel discussions on packaging applications.
Komori Has Solution for Folding Cartons
ROLLING MEADOWS, IL | Komori (Hall 15/D04-1) offers an "OffsetOnDemand" area to showcase the Lithrone G40P (8-C H-UV-equipped 40-in. convertible perfector); the Lithrone S29 (5-C H-UV-equipped 29-in. sheetfed offset press), postpress systems, the Komori Color Management System, and a digital printing system.
Folding carton converters should look for the new Lithrone GX40 Carton (6-c H-UV-equipped 40-in. sheetfed offset press with coater). In cooperation with Konica Minolta, two digital prototypes will be unveiled: a 29-in. sheetfed machine and a 20-in. webfed machine. The four-color machines use 1,200 dpi Konica Minolta print heads and offer a choice of three quality/speed settings. (Contributed by Katherine O'Brien, senior editor of American Printer Div. of OutputLinks)
Kurz Features Metal Effects, Printed Electronics
FUERTH, GERMANY | Kurz (Hall 03/D70) will highlight metal effects for digital printing. On the sheetfed side, the company will feature Luxor/Alufin KPS-OP, a new cold foil for sheet-fed UV offset printing. Kurz will show holographic continuous foils produced without recombination lines (seams). Previously designers were restricted to closely repeated patterns; now even large single-image designs can be produced.
Kurz will feature PolyLogo products ("Smart Objects") that consist of thin, flexible and printed electronics such as sensors, batteries, displays, and control logics. (Contributed by Katherine O'Brien, senior editor of American Printer Div. of OutputLinks)
MATIK will REPRESENT SEVERAL EXHIBITORS
WEST HARTFORD, CT | Matik Inc. will have personnel at several booths to demonstrate equipment and answer questions.
Gietz AG (Hall 3/B53) will demonstrate two FSA Gietz 1060 Foil Commanders. The booth will have 3,552 sq ft of equipment including one Foil Commander with SMART Register using the latest sensor technology running at speeds up to 8,000 iph. Gietz will introduce a new toggle system with up to 64% more time on impression regardless of press speed. It will demonstrate the first special stripe application with 12-mm wide foil on 10,000-meter rolls. The company will demonstrate large combo stamping with full foil pull and extremely deep embossed dies using new technology by Leonhard Kurz Stiftung & Co. KG. Gietz will have a Foil Commander at the Kurz booth (Hall 3/D70). This press will run ten foil webs along with large combo dies using full foil pulls. A new work table for quick set up of foils will be shown. Gietz will demonstrate the FSA Gietz 870 Compact running simulated security jobs using five foil webs, four with digital image patch applications with advance optical technology and one registered lens application presented for the first time. In addition, one transverse foil feed using a wallpaper non-registered foil stripe with all foil made by Leonhard Kurz Stiftung. Updated unwind tension controls and a redesigned delivery system. The Gietz ROFO 910 roll-fed foil stamping press will run unusually complicated substrates and foil applications using six foil pulls, VACUFOIL, 2-register hologram detection units plus 2-pulls transverse. A total of ten foil webs, seven longitudinal and three transverse. Also demonstrating the Gietz HTF 940 conical tray erector using servo motor technology.
GOEBEL Schneid- und Wickelsysteme GmbH (Hall 10/C48) Goebel will present the fully automatic slitter/rewinder GOEBEL KPW3. (See separate entry above.)
MABEG Systems GmbH (Hall 9/C44) has a product range that includes Modular Sheet Transportation Systems for inspection of sheets, sorting, inkjet application, and labeling. After DRUPA, in June, the company plans to have a MABEG Sheet Inspection line model MSP104 (size 3B) at its facilities in Mörfelden (Germany) assembled and ready for demonstrations. It will be a machine with high pile feeder height of 67 in. (1,700 mm), with a diverter gate, two stackers (one for waste sheets, one for good sheets) but without the camera inspection system. Let Matik know if you are interested in a demonstration of the MSP104 prior to the start of DRUPA. A similar inspection system for blanks will be shown on the booth of partner company for camera inspection systems, Vision Experts (Hall 10/B69).
OMET S.r.l. (Hall 3/D90) will demonstrate a Varyflex flexo web press for board and film and an X-Jet digital press. OMET will be doing demonstrations on the hour for each press.
TRESU Group (Hall 10/A62), the Danish wide web flexo press manufacturer and printing ancillary product manufacturer, will unveil an in-line, pressure-controlled varnishing concept for high-speed, sheet-fed and web offset printing presses. The TRESU Offset Coating Concept is suitable for UV- and water-based varnishes.
ESS Technology A/S (Hall 10/A77) is a leader in the design and production of complete, customized web finishing machines and can customize sheeters with special cut-off sizes, delivery of sheets, labels, tickets, RFID or security cards. Units can be installed either off-line or in-line on web presses. In addition, the company has resolved the task of changing flat bed stroke processes into continuous operations.
Schober Introduces Robotic Stack/Count Technology for IML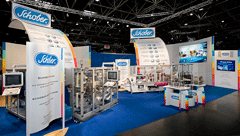 FAIRFIELD, OH | Schober (Stand #11/C06) will feature high-speed robotic technology for stacking and counting long and complex runs of in-mold labeling products processed on its RSM rotary cutting machinery. The RSM family, when coupled with the high-speed robotic delivery option, is capable of speeds up to 164 fpm (50 mpm). An inspection system for 100% quality verification with integrated waste separation is also available, making this ideal for the cost-effective converting of IML and other discrete labels.
In addition, Schober will display proven rotary die-cutting, folding, embossing, cut-and-place, rotary punching, and hologram technology for anti-counterfeiting applications. RFID technology will also be on display. In addition, the SHEETLINE SL 106 and advanced Rotary Sheet Fed Converting Machine will be introduced.
Scodix Has Digital Inkjet Solution Provides Glitter Finishes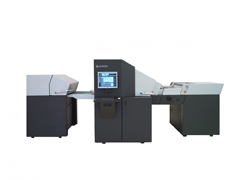 ROSH HA'AYIN, ISRAEL | Scodix (Hall 4, Stand B31) launches a Scodix Rainbow and Scodix Inkjet-Braille solution for digital print enhancements. The Scodix Rainbow is an add-on station that digitally applies glitter powder to selected areas over printed substrates. The process—Scodix Digital-Glittering—is suitable for a range of applications, including labels and packaging.
Based on the ScodixSENSE printing process, the latest inkjet solution also creates a clear thick polymer as high as 250 microns to enable the reproduction of Braille latters and graphic shapes for blind and visually impaired users to touch and feel.
The new Scodix Digital Press S52 and S74 in B2+ (52 cm) and B3+ (74 cm) sizes are capable of printing on thicker substrates and providing a higher ScodixSENSE solution up to 250 microns. As a standalone solution compatible with offset, laminated sheets and digital print feeds, the presses can automatically process substrates from 135–675 gsm (6–30 points) and thickness up to 700 microns.
Screen Expands Offerings for Flexo
AMSTELVEEN, NETHERLANDS | Screen (HALL 09/A40) is expanding its offerings for the flexo/packaging industry. It offers the Screen PlateRite FX range of thermal platesetters to image all market-leading solvent and water-wash photopolymer plates for flexo and letterpress applications to the highest 4,800 dpi quality levels.
The open-platform PlateRite FX systems can be integrated with any flexo front end system, in addition to Screen's EQUIOS workflow and Flexo Dot software.
It's the coming out party for the Truepress JetSX, a variable-data B2 sheetfed inkjet press—now it can print on paperboard up to 0.6 mm thick. (Contributed by Katherine O'Brien, senior editor of American Printer Div. of OutputLinks)
Trelleborg Creates Inst. of Print To Showcase Blankets
TRELLEBORG, SWEDEN | Printing blanket manufacturer Trelleborg (Hall 6/Stand B61) will launch the Inst. of Contemporary Print, an interactive space in which visitors to the show can relax and experience exciting art.
"Taking centre stage within the Institute will be 'The Masters' Collection', a compilation of artworks produced in association with aspiring students from Germany and the Netherlands. These have been specifically developed to showcase modern interpretations of some of the world's most famous pieces of art, while demonstrating the versatility, capabilities, and range of our printing blankets on virtually any substrate," says Thomas Linkenheil, managing director, Trelleborg printing blankets.
The company also will launch a new blanket for its high performance Vulcan range at the show. The Vulcan Synthesis Evo is the next generation in sleeve development for the heatset sector and features an innovative new design and carrier.
In addition, Trelleborg will reveal its new Rollin MyCoat, a 2-ply mylar based strippable coating blanket. Available in three thicknesses, 1.96 mm, 1.35 mm and 1.15 mm, the specialist construction of this new blanket makes stripping very easy; the innovative compressible layer of the blanket strips down to the blue layer allowing the end-user to see if knock outs are correct and precise. A specially designed top rubber compound also makes the blanket suitable for use with both aqueous and UV coating applications.
Xeikon Unveils ThermoFlexX imagers for platemaking
EEDE, NETHERLANDS | Xeikon (Hall 8A, Booth B44) will unveil ThermoFlexX, its product line of reliable, high quality, digital imagers for flexographic and letterpress plate making. With the launch of ThermoFlexX, Xeikon now offers solutions for flexographic platemaking as well as digital printing (through the Xeikon 3000 Series of digital color presses), further reinforcing the company's commitment to the label and packaging markets.
Earlier this year, Xeikon acquired FlexoLaser, a manufacturer of computer-to-plate (CtP) devices for both flexo and letterpress applications. Xeikon selected FlexoLaser due to its excellent product design capabilities and best-in-class image quality. At the same time, Xeikon also announced that it had acquired the rights to the ThermoFlex trademark from Eastman Kodak Co. Xeikon is currently transferring production of the imager systems to its pre-press facilities in Belgium.

The ThermoFlexX solution comes with a range of unique benefits. Advanced clamping design allows plates to be mounted directly on to the drum, while uniquely designed vacuum sliders offer the flexibility to use plates of any width. This is highly beneficial to operators as there is no need to cut the plates to fit a dedicated vacuum zone thus allowing the use of cut-off scraps. The ThermoFlexX solution also features ergonomic plate mounting and its hybrid drum offers flexibility of holding plates in place either by vacuum or by magnetics.
QuadTech Offers Press Control Technologies for Packaging
SUSSEX, WI | For the flexo and gravure package printer, QuadTech (Hall 17, Stand A10) offers fast in-line inspection and spectral color measurement solutions for film, foil, paper, and various laminates, enabling quality consistency and reduced waste.
Inspection System with SpectralCam provides 100% defect inspection and true spectral color measurement using the same proven 31-channel spectral sensor found on QuadTech's commercial color control. The system can measure up to 72 targets, then analyze the data to ensure that there is no deviation from the target aim points. The result is greatly reduced waste.
QuadTech Color Measurement System with SpectralCam can accurately calculate L*a*b*, ΔE, Density and ΔDensity at full press speed. This in-line system is extremely flexible with QuadTech's patent-pending web stabilizer technology, which allows for precise spectral measurements on various substrates including film, foil, and paper. Advanced spectrophotometer technology enables the system to quickly detect and analyze colorimetric and density variations from predetermined targets. Consistent, fast, accurate color quality is guaranteed.
QuadTech Color Measurement System with SpectralCam HD introduces in-line high-definition dot viewing and web stabilization capabilities, facilitating easy on-the-fly detection of dot abnormalities such as pin-holing, bridging, doughnuts and halos. Images are captured at 2500dpi and are made instantly accessible through the ICON Integrated Platform.
Autotron 2600 Register Guidance System with ClearLogic provides accurate register control on any press which is highly beneficial to users of opaque, transparent and reflective substrates such as BOPP, metallized film, high-gloss cast and polypropylene. Using MiniCam scanning heads the process detects various pale and low-contrast marks with precision, significantly reducing make-ready waste.
Windmoeller & Hoelscher's drupa Motto: The Easy Way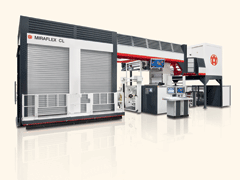 LENGERICH, GERMANY | In its 900+ sq m booth, Windmoeller & Hoelscher (Hall 15, stand A41-1) will show a ten-color MIRAFLEX CL 10 flexographic press. Printing stations from the HELIOSTAR S gravure press also will be on display. W&H will present developments to the EASY range of automation modules, which shorten setup times, increase productivity, and minimize waste.
Across the aisle, subsidiary company Garant Maschinen (Booth 15, A41-2) will present the TRIUMPH 3MR/SM and the MATADOR NG bag machines.
During drupa, W&H will host an in-house EXPO at its headquarters one-and-a-half hours north of Duesseldorf. An extensive range of machinery and new developments will be presented.
The company's VISTAFLEX portfolio has grown with the introduction of the VISTAFLEX CL8 and VISTAFLEX CX, which accommodates widths up to 2,200 mm. New developments to the HELIOSTAR range will be shown both at drupa and at the EXPO, including effective ink and washup systems and the HELIOCONTROL register system with EASY-SYNC automatic pre-register.