Published: July 16, 2010, By Yolanda Simonsis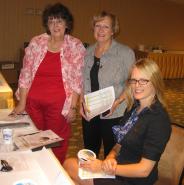 On July 14, I spent the day with my co-judges (see photo at left) rendering decisions on the best representatives of the in-mold labeling and decorating processes for the In-Mold Decorating Assn., Phoenix AZ. While weather there was a tad on the warm side (how's 113-deg F?), the judges found the competition entries were even hotter!

Although I can't divulge the winners yet (that will be announced by IMDA at the appropriate time), I can say that the entries were impressive, offering new applications for the in-mold process that should inspire some creative uses in the future.

For upcoming competitions, I'm hoping entrants will also offer information that will indicate what printing process was used to manufacture the label. I think this information could demonstrate the potential for future growth opportunities for label converters that they may not have considered in the past.

While I don't recall having heard of any in-mold applications employing the digital printing process, I'd love to hear from readers who may have given it a shot. Comments are welcome!

Photo caption: Judges (left) Clare Goldsberry of ProWrite Communications and senior editor at Modern Plastics Worldwide; myself of PFFC, and Ashley Carlson, director of packaging Plastics Div., American Chemistry Council, pick the best of IMDA's competition entries.