Published: November 03, 2016, By Yolanda Simonsis
People everywhere have been sending all of us on the PFFC Team congratulatory wishes for the Chicago Cubs World Series victory last night against the Cleveland Indians. "Maybe next year" has finally arrived.
One dear friend and professional colleague, Don Shook, reminisced in a congratulatory message with a postscript:
"Did you all catch the Nike commercial that aired in the first commercial break AFTER the game ended? It featured a young boy playing baseball all by himself on an empty ball lot with the Sears Tower [now Willis Tower] on the horizon… it played some music that was reminiscent of old days, and then at the very end, the video dissolved into a frame saying "Goodbye Someday." Obviously produced and held in the network vault to see which way the game turned out. And to think that it may have never aired. . . how nice that it was given the chance to see the air of night!"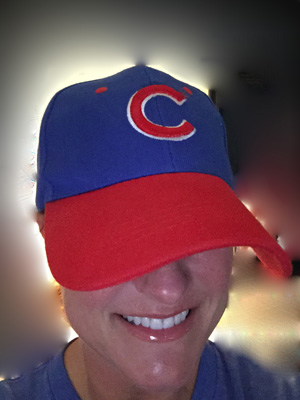 I missed the commercial last night because I must admit total frustration when they pulled out the tarps. I went to bed and was just beginning to doze off when fire crackers, M-80s, and flashing fireworks broke the silence of the night. I knew it was a good sign. I ran to the TV to get the low-down. Victory! Finally. While I'm not the Cubs biggest fan—not like our Claudia Hine—who couldn't help feeling happy for them and their fans? I must also admit I felt the anxiety any fan would have felt after being denied a World Series trophy for 108 years!
For the first 14 years of my life, I actually grew up only two blocks away from Wrigley Field. Back then my cousins (both diehard Cubs fans who'd re-enact that Nike commercial over and over again) and I would walk the two blocks to gain entrance for free to the ball park in the 7th inning. That was the practice back then. But I also remember hearing my dad complain when he couldn't move his cab that he parked legally outside when someone had "double-parked" in front of his cab, preventing him from working. Dad was a big White Sox fan, so of course, so was I.
Still, I remember hearing the roar when the Cubs scored a home run when there were nothing but day games. Good memories. The year 1908 is significant to me for another reason. . . it's the year my grandmother was born. She passed in 2009 at the age of 100—never having seen another Cubs' victory in her lifetime. At least my mom and I can claim this victory to our memory banks and savor it for future generations. Hopefully there will be more. And I hope the Indians get a chance to claim victory as well—just not too soon. Maybe after next year's "Subway Series" is held here in Chicago between the Cubs and Sox.
My friends call me
Yo