Published: November 17, 2015, By Yolanda Simonsis
One of PFFC's website visitors and E-Clips subscribers Kasey Morales forwarded this news about Mondelez Intl. Inc.'s OREO cookies now being available in packaging that you can customize, even allowing you to add holiday greetings, graphics, and personal notes.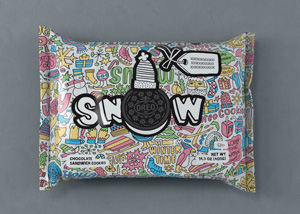 While waiting to hear from a contact at Mondelez, I received a very timely announcement today from the company that provides the digital printing technology for this unique packaging. It was not a surprise to me who was involved. Is it for you?
None other than HP digital technology is responsible for helping launch OREO Colorfilled, a custom brand experience that allows fans to personalize the iconic OREO cookie packaging with holiday flair. OREO Colorfilled is reportedly the brand's first-time ever offering customized products to consumers and, with this campaign, Mondelez International is taking part in a growing trend in custom packaging and adult coloring books to break through the crowded holiday buying season and engage consumers in new and exciting ways.
More than just cream filling inside
On the outside, OREO Colorfilled packs feature exclusive, illustrated black and white designs from renowned graphic artists Jeremyville and Timothy Goodman. Consumers can create their completely unique cookie packages via desktop or mobile, choosing one of the artists' template designs, zooming in and out of certain areas, adding colors and holiday stylings, and including a heartfelt note to family and friends receiving this one-of-a-kind OREO holiday gift. Each custom wrapper is then printed on an HP Indigo WS6600 Digital Press, used for its high quality, color accuracy and speed.
In addition to HP having the right digital print technology to bring this campaign to consumers quickly, OREO also chose HP as their Colorfilled project partner after seeing other large-scale brand projects executed and understanding how digital printing capabilities might further their marketing and consumer engagement goals. HP's experience meeting strict brand demands for color fidelity, personalization, variability, quality and variety of substrates with HP Indigo technology made the partnership a natural fit.
There will come a day when this type of packaging will not be breaking news or be anything out of the ordinary.
I have one question: Will Donald Trump be eating them if they're made in Mexico? Who cares. I'm buying my OREOS, and I won't share!
My friends call me Yo