Published: December 19, 2014, By Yolanda Simonsis
The National Retail Federation claims that consumers will spend more than $616 billion on gifts, and an Asia Pulp & Paper (APP) survey reveals that Americans still will want these gifts under the tree wrapped. The same survey notes that more than half of Americans, however, are not willing to reuse wrapping paper, a converted product.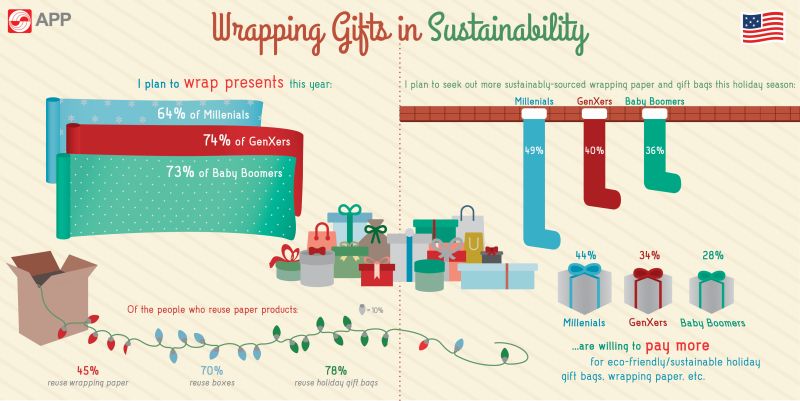 It's not the tradition that's changed, reports the APP survey, it's the material, with Americans embracing sustainable wrapping options, including the following:
More than one-third of Americans (35%) are willing to pay more for eco-friendly paper products such as gift bags, and wrapping paper, with products produced with a zero deforestation guarantee being top of mind for Millennials.
A significant 41% of Americans plan to seek out more eco-friendly wrapping paper and gift bags during the holidays. This sentiment is highest among Millennials (49%), followed by GenXers (40%) and Baby Boomers (36%).
While Americans might not like to reuse wrapping paper, 78% are open to reusing holiday gift bags, 70% may re-use boxes, and 60% may reuse tissue paper.
A Timeless Gift from PFFC to You
In keeping with the holiday gift-giving tradition, the PFFC Editorial Team has a gift for all our PFFC-online.com website visitors and E-Clips subscribers that can be used throughout the year at any time of day or night. Our new Converter Community Message Board is a page you should immediately FAVORITE. Consider The Converter Community a searchable resource where you can post questions, offer advice, access and tap expert input on a grand global scale, and who knows what else! It's the only Message Board of its kind in the converting industry.
You'll find The Converter Community on PFFC's homepage at the bottom right. Click on Visit The Converter Community where you can register with your own personal login information. You can even add your own avatar by clicking on "My Profile" in the black bar at the top, then Edit on the right. Be as generous with your information as you wish (or not), but be sure to check out the Recent Discussions and add your professional input. At the very least, see what's trending at The Converter Community Message Board, and feel free to add your own topics. The more the merrier!
All of us wish you a joyous holiday season and welcome your thoughts on this new PFFC-online.com website feature. Write to me at This email address is being protected from spambots. You need JavaScript enabled to view it..
My friends call me Yo.