Published: October 28, 2014, By Yolanda Simonsis
MYRTLE BEACH, SC | The Assn. of Intl. Metallizers Coaters & Laminators Fall Technical Conference on Oct. 19–22 played host to nearly 380 attendees plus guests and spouses—perhaps the largest session on record for the organization. The event, held at the Marriott Grande Dunes Hotel, also included a fourth track of sessions co-located and sponsored by Society of Plastics Engineers' (SPE) flexible packaging interests; the other three tracks were dedicated to Web Coating & Laminating, Vacuum Web Coating, and Web Handling. Filling out the assortment of sessions prior to the meeting's official opening were six optional short courses earlier on October 19, including a session by PFFC's own This email address is being protected from spambots. You need JavaScript enabled to view it. of Electrostatic Answers on "Electrostatics in Web Handling."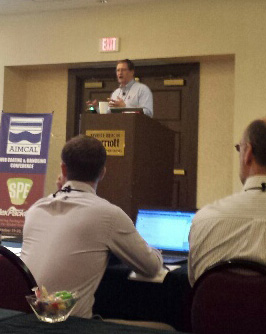 The meeting opened with a meet-and-greet welcome by This email address is being protected from spambots. You need JavaScript enabled to view it., president of SPE, who enthusiastically commented that he hoped such sessions as the FlexPackCon track at AIMCAL might be the beginning of more to come in the future. Judging by the success and interest at the meeting, the likelihood seems apparent.
While new elements were added to the conference's offerings, tried and true traditions were upheld, including the Matteucci Technical Excellence Awards for best papers:
Web Coating & Laminating
"Comparing Traditional UV Systems with LED UV Systems for UV Curing," by R. W. (Dick) Stowe of Heraeus Noblelight Fusion UV, was awarded Best Paper: This presentation explored some of the advantages and challenges of UV sources, describing how accurate UV measurements of spectral irradiance and exposure are essential to optimized design and production control of the UV curing process. Methods of measurement as well as some sources of error were included, as well as discussion on radiometers and dosimeters, several techniques on their use for process specification, and troubleshooting for both medium-pressure and LED systems.
Honorable Mention went to

This email address is being protected from spambots. You need JavaScript enabled to view it.

of Dow Chemical Co. for his presentation on "Specialty Polymers used in the Industry for Packaging and Industrial Products," which was part of the Gauging and Extrusion Technology group of sessions: While there is a wide and continuously growing range of polymers used in extrusion coating and extrusion lamination, within flexible packaging, one of the formats that has experienced high year over year growth is stand up pouches. Typical multilayer designs incorporate a barrier layer such as foil, metalized film, EVOH, Nylon, or PVDC. All of these layers must have the desired level of adhesion to insure package integrity. Tie layers and other common polymers used in flexible packaging were subject of this paper along with their attributes in the extrusion coating and extrusion lamination process.
Vacuum Web Coating
Best Paper went to Chris H. Stoessel of Eastman Chemical Co. for his presentation: "Impact of Roll-Coated Polymer Films on Comfort and Energy Efficiency of Vehicle Glazing." This paper focused on automotive design trends towards larger glazing areas in vehicles combined with stringent fuel efficiency goals, which have heightened the awareness of managing solar cabin heat-up through the use of spectrally selective coatings. An overview was given of the types and performance characteristics of polymer web-based solar selective coatings, also highlighting how the application context of automotive glazing relates to regulatory, safety and reliability constraints, and latest industry trends.
Honorable Mention was bestowed to Nick Rimmer of P2i for his paper on "Vacuum Plasma Deposition of Water- and Oil-Repellent Nanocoatings." This paper focused on various traditional web coating processes to achieve water and oil repellency as well as the success of low pressure plasma deposition to achieve highly uniform, thin films with precisely controlled composition and molecular structure. Results were described from a patented pulsed plasma deposition process that was originally developed to provide liquid chemical repellency to specialist clothing for the UK military. The pulsed plasma deposition technique was described to provide exceptionally high levels of liquid repellency with a coating that is only a few nanometers thick.
AIMCAL's next technical program is organized and offered at ICE USA with three concurrent tracks on February 10–12, 2015 at the Orange County Convention Ctr. in Orlando, FL. The next Fall Technical Conference is slated for Naples, FL, on October 25–28, 2015. A call for papers will be announced soon.