Published: June 14, 2012, By Yolanda Simonsis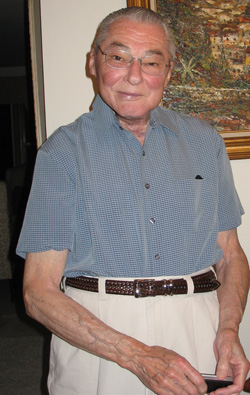 Have you ever pondered your identity? If there's any good in me at all, it's to the credit of my parents Ramon and Evelyn Ferrer, with my dad—the first man in my life—teaching both me and eventually my growing family, to persevere under all circumstances.
My dad was born to this earthly world on August 10, 1929, and reborn to God's kingdom in the early morning on June 13 at 12:30 A.M. It was a long health battle for him, but he wouldn't give up until his body literally gave up on him. Poor Dad had tubes going in and out of him. By his choice, he even submitted to a tracheotomy so he could stay with us just a little longer. It was hard to watch him in pain and unable to talk. This was a man who loved to offer his perspective on just about anything, so his silence was, as they say, deafening.
As a writer, I try not to make sweeping generalizations. However, I cannot recall a time when my dad wasn't there for me. As an only child, if I was spoiled—like most only children are accused—it was of my parents' complete attention. Trust me, such focus can be a double-edged sword. It was a challenge to meet their expectations with no other sibling to distract their attention. But as I grew older and sometimes saw some of the difficulties of rivaling sisters and brothers, I accepted my parents' choice to keep me as the only apple of their eyes.
My dad labored long and hard hours during his working years, finishing college well after I was born then getting in on the ground floor of the computer industry in the early '60s. He taught by example, so during those struggling early years, he never had to tell me to never give up because I saw him live what he believed.
From an early age, it was understood that I would go to college and graduate—no quitting. He'd tell me, "Take the bull by the horns, and get it done!" I never knew that phrase could be applied to so many different situations in life until I myself became sick with cancer on seven different occasions, but like him, I never gave up.
And so I find myself writing this blog entry, so proud of my dad who tried everything to stay with my mom and his only child's family whom he loved so completely that even pain and suffering could not keep him from trying to stay with us. With the promise we'd be okay, a whispered I love you, and kiss on his forehead, he slipped softly and silently into heaven last night.
I'll be back soon.
Yo