Published: March 23, 2012, By Yolanda Simonsis
TEL AVIV, ISRAEL | Can anyone who has traveled to Israel not fall in love with it? Next week I'll be hard at work judging, along with several other panel members, the HP Print Excellence Awards.
This year the competition is touted as the company's first worldwide HP Print Excellence Awards recognizing graphic arts printing produced on HP Designet, Indigo, Inkjet Web Press, and Scitex sytems. The competition unifies several existing regional and worldwide HP print quality awards into a single program. Innovative examples of environmentally responsible printing also will be honored.
This makes my fifth trip to Israel, and each time is like the first. I never tire of it. This visit comes after HP Indigo made some eventful--even historical--announcements prior to drupa (May 3-16 in Dusseldorf, Germany) as PFFC's recent coverage can attest, particularly as it relates to significantly wider digital presses suited for the flexible packaging and carton industries.
Depending on what I learn while on the job of judging--and what I will be allowed to repeat--I'll share more with you here.
Until that happens, I have to share with you my first day in Tel Aviv. You'll understand why I love it here so much.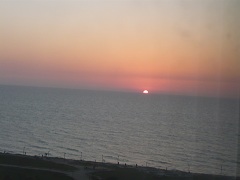 After having my last airplane food at about 6 A.M. at the tail end of a 10 hour 15 minute flight, along about 4 P.M. my stomach and head told me I'd better feed myself. I made the mistake of not remembering it was the Sabbath, and everything pretty much shuts down, so locating food can be problematic if it's past sundown and you don't want to cab it alone in an unfamiliar, though friendly, town.
Fortunately, I discovered my hotel (The David Intercontinental) keeps a section open in its dining room for people like me. I ordered something on the "light" side--the Mediterranean vegetable platter along with a lovely glass of Israeli Merlot. First came the olives and mixed nuts to whet my appetite (which needed no help). Then the food. An array of colorful vegetables were literally piled high on my plate in a manner that can only be described as artiful perfection. Mild goat cheese, pesto sause, sweet potatoes, zucchini, asparagus, egg plant, portobello mushroom. And did I mention the bread? I ate half of the basket and left only two leaves of lettuce on my plate.
And then I decided to read my new book as I sat back in my overstuffed lounging chair that graced this particular area of the dining room. The Hunger Games by Suzanne Collins was definitely the antithesis to my present gastronomical experience.
And then I promptly fell asleep--AT my table. The servers were so sweet. They let me stay (asleep) in my comfy chair, cleared my table, but left the luscious green olives and nuts, just in case I woke up and wanted another bite of something to eat. When I did wake up (best nap I've had in a long time!), I realized that I hadn't paid for my dinner yet, but the servers never bothered me.
I suspect the lovely Israeli Merlot had its desired effect. I'll sleep well tonight!