Published: February 17, 2012, By Yolanda Simonsis
Looks like PFFC has a few road trips lined up for the near future. Both Claudia Hine and I hope to meet some of you on our journeys.
Converters Expo
First on the list is a journey on March 1 north of the cheddar curtain in Wisconsin to Converters Expo, staged by Converting Influence. Located in a hotbed of Midwestern converting activity, Green Bay is a perfect place for nearby (and not so near) converting operations to visit exhibitors and listen in at Skybox Seminars at Lambeau Stadium's Atrium facility from 9:30 A.M. to 3:30 P.M. Even refreshments and lunch for pre-registered attendees are available.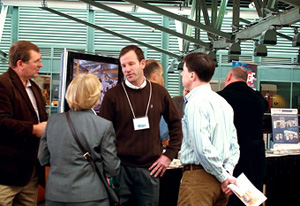 For a list of exhibitors at Converters Expo, click here, but be sure to visit the PFFC booth where you'll find me as well as Claudia Hine, Tim Walker, and even my husband Bob, who challenges you to tell him a joke he's never heard!
If you arrive the day before the event on February 29, you can also participate in several Factory Tours, but be sure to register ahead of time because they're available by appointment only. Among those tours available are the following:
On March 1, each of three Skybox Seminars is 90 minutes long and will cover the following:
9—10:30 A.M.: Latest in Flexo printing with comparisons to digital and news on inks and platemaking.
10:30 A.M.—12 P.M.: Industry Outlook and how to build value.
1 P.M.—2:30 P.M.: How to Operate Your Small Business with tips on HR, finance, and being "green."
International Sleeve label Conference
Then on April 18-19, I'm wending my way to Cincinnati, OH, where AWA Alexander Watson Assoc. will stage its International Sleeve Label Conference at the Hyatt Regency (registration is available by clicking here).
Developments within the sleeve labeling industry will be available with emphasis on new materials, technologies, applications, and market trends. Key industry leaders will offer their views on the market and provide a review of innovations.
AWA has even established a LinkedIn Group for the event to help prospective attendees stay on top of developments and connect with other attendees prior to the event by clicking here. In addition to the full conference, platinum sponsor Verst Group Logistics will host a facility tour.
For a full description of the program, visit AWA's website and download a conference brochure by clicking here.
CPP Expo
On the same April 18-19 dates, Claudia Hine will be visiting the new CPP Expo—The Cleveland Show. This first-time event will be held at the I-X Center, starting at 9 A.M.—4 P.M. each day.
Exhibitors are said to cover the full converting gamut, including suppliers of flexo, gravure, letterpress, offset, digital, plates, cylinders and rolls, coaters, laminators, bagmaking, inks and coatings, substrates, slitting, surface treating, cutting, embossing equipment and much more.
A conference program is planned to complement the exhibition, addressing such subjects as flexible packaging, corrugated packaging and displays, tags and labels, folding carton, printing, and prepress/workflow solutions. The Converting Equipment Mfrs. Assn.—CEMA also will hold its Fundamentals Seminars prior to the Cleveland Show on April 16--17, so check out the AIMCAL website for details at www.aimcal.org.
H.A. Bruno, organizers of the show, have found through research that a significant number of past CPP attendees originate from the Ohio area, hence the reason for bringing the show to the backyard of the bulk of attendees. Be sure to flag down Claudia to bring her up to date on your companies' activities and introductions.
See you on the road. Drive carefully!