Published: May 13, 2016, By Jackie Marolda
"Don't worry about failures, worry about the chances you miss when you don't even try": Jack Canfield, author of Chicken Soup for the Soul.
How many of you had Betamax? Anybody eat a McDonald's Hula Burger? Do you remember New Coke? All of these were very public product failures. I'm sure somebody lost their jobs over those blunders!
Purposeful innovation is risky business. If your company wants to go down the path, you need to be prepared because not every opportunity or idea will be successful. But you can't grow unless you try. Your corporate culture needs to be prepared to encourage risk taking.
Innovative cultures have to encourage a mindset that the risk of losing out on an opportunity is greater than the risk of making a mistake.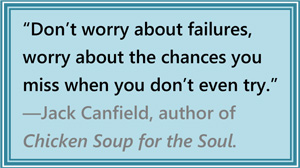 One of the biggest flaws in corporate culture when it comes to innovation is how companies deal with the backlash of innovative products or services that fail. Let's remember, investing in innovation takes money, time, and resources. If an idea is explored and research predicts it to be a winner, but it turns out to be a dud—the investment is considered to be wasted. My experience shows that companies look for a scapegoat—and it is not unheard of for someone to end up getting fired. A culture that punishes for failure runs the great risk of stifling future risk taking and puts future opportunities in jeopardy. When people are in fear of losing their jobs, they fail to do their jobs to the fullest.
The results of failure must be seen as positive learning experiences. As kids we learn to ride a bicycle by falling down and getting back up again. We make a mistake, we learn, we regroup, and jump back in for more! As innovators, we haven't done our job well enough until three or four people tell us "no." As we learn the reasons, we get a clearer picture of what a "yes" will look like. We refine our vision of the path that solves real problems, makes things better, smarter, faster, more accessible, easier-to-use, and more robust.
Do you know how WD-40 got its name? It was the 40th attempt to create the degreaser and rust protection solvent. It was originally designed for the aerospace industry, but it was so popular among employees that it was launched in retail.
So, how do we avoid being the next New Coke? How do we get it right before the 40th attempt? Early in the process, innovators must be looking for ways to fail, seeking out the "no" responses, and to find them quickly. We need to understand the why behind things: Can we really build it, do we have the right assets, are we targeting the right customer group, can the market afford our solution? Innovators need to continually ask questions and work for the right solution. Failing along the way is a critical part of the process.
Share your risk-taking successes or learning failures with me at This email address is being protected from spambots. You need JavaScript enabled to view it..