Published: February 15, 2015, By Tom Bezigian
By that I mean, the show wasn't what I would call big, and not what I would call crowded, but there were a lot of quality exhibitors, and thus a lot of opportunity for meetings with vendors. There were also 3 days of technical presentations which drew in more than 200 attendees. I moderated an informative session on extrusion coating and hot melts on Tuesday, in which SAM-NA, Dow Chemical, ITW Dynatec and Bruce Foster presented papers. The AIMCAL networking event on Tuesday evening was a big hit, as was the baby alligator which everyone clamored to have their photo taken with. Melissa from AIMCAL tried to coax me into the picture with her, but she was braver than I.
On the technical side, I learned a lot, and had wonderful discussions with Nordmeccanica, Ashland Adhesives, Bostik, NDC, Nordson EDI, Davis Standard, Polytype America, Ahlbrandt Systems, Vetaphone, Enercon, Vacuumatic (automatic roll flagging equipment), Entwistle, ZOD Automation, Teknek, Schenk Vision, SAM-NA, PCT Engineered Systems, ESI, Mirror Plate & Polish, Pearl Rotary Joints (Japan), Mamata Machinery, AIMCAL, and German Laverde, the keynote speaker on Latin American trade. I also met several non-exhibitors worthy of note, including Benton Graphics (specialty doctor blades), Pillar Technologies, Georgia-Pacific, Kolm Polymers, and Twin City Courier. You get the idea. There was plenty to do at ICE to fill up 2½ days.
While there was a lot to see and learn at the show, I perhaps was most fascinated by Nordmeccanica's new entry into the metallizing market. They are introducing on June 2, 2015, at their US Headquarters in Happauge, NY, their new pattern metallizer. This metallizer can produce metal patterns with quality, in my opinion, as good as a flexographic printing press without de-metallizing the film... that is, right off of the metallizer. The quality is quite impressive, and of cost, the cost reduction and productivity improvement of eliminating the de-metallizing step are enormous. Contact Darren Pickford of Nordmeccainca for more information (This email address is being protected from spambots. You need JavaScript enabled to view it.).
Nordson EDI had both a solution coating slot die as well as a co-extrusion feedblock and extrusion die on display at the show. It is always nice to see the inner workings of polymer equipment on display, as shown in the attached photo. They also have wonderful animations of flow through the die and coex feedblock, which are helpful educational tools. For more information, write Andy Svenningsen at This email address is being protected from spambots. You need JavaScript enabled to view it..
Shown below is a clean version of the 3-layer coextrusion feedblock, showing front and back of the unit, courtesy Nordson EDI.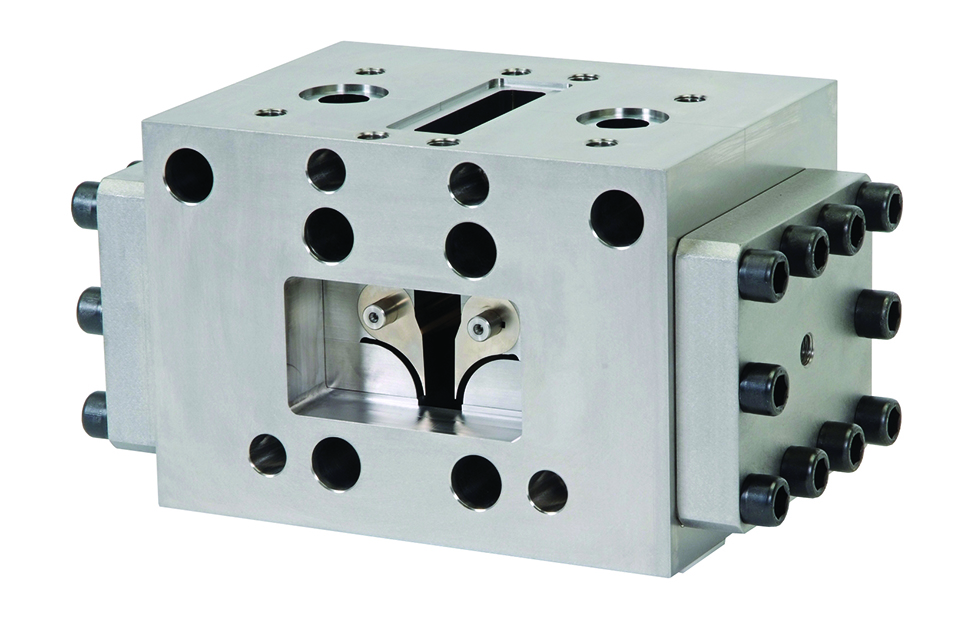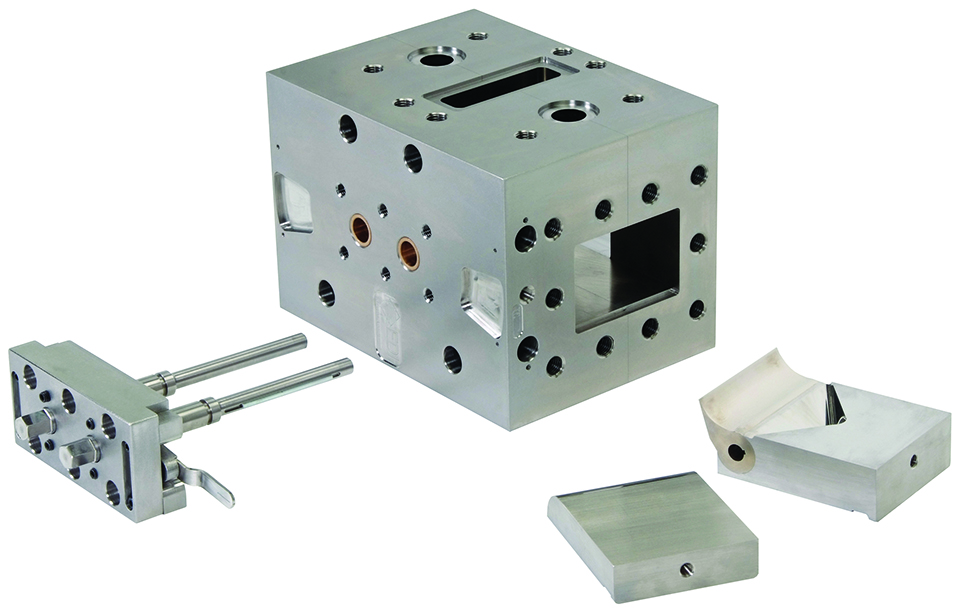 Believe it or not, I found my discussion with Vacuumatic most interesting. Vacuumatic makes a roll flagging system that works either manually, or with your web inspection system. This didn't used to be something notable in the old days when you could actually could get close enough to the roll to insert a flag, but modern machines are so well guarded that it is all but impossible to do so anymore. What I see operators without these devices doing is using a wooden stick fashioned with a groove in it to insert a paper flag where necessary. This act itself can be dangerous, and should be discouraged if possible. I've attached a photo below to see what it looks like. Vacuumatic has a location in Hicksville, NY, but I spoke with Alan Gillett out of the UK, who was very helpful (This email address is being protected from spambots. You need JavaScript enabled to view it.).
Short and sweet... if you need laser alignment of your extruder barrels, gearboxes, rolls (everyone needs this... everyone), or vibration analysis, or thermography... contact Scott Glover of The Advanced Team at Scott @ theADVANCEDteam.com. You'll be glad you did.
On the foreign front, I spoke with Mark Ryan, who is the US representative for ZOD Automation, out of Beijing, China. I was impressed with the equipment, which unwinds a wide pressure sensitive web, strips off and winds up the release liner, laminates it to several webs which ultimately inserts a bandage and forms a finished package, all in one concise machine (see photos). Mark is located in Arlington Heights, IL and can be reached at This email address is being protected from spambots. You need JavaScript enabled to view it..
Now really at last, two of my fearless leaders peering at and garnering the courage to touch the baby alligator at ICE USA 2015.