Published: November 06, 2014, By Tom Bezigian
The show had nearly all the representatives from industry that are required to make any type of product or package imaginable. On the equipment side, companies producing adhesive lamination equipment, printer manufacturers, pumping, conveying, palletizing, wrapping, robotics, shrink wrapping, tapes, packaging equipment and various ancillary equipment were there. On the supplier side, the solution coating suppliers were there in force, some resin and compounding companies were there, ink suppliers, packaging material suppliers, glue suppliers, and converters. The only group missing at the show were the extrusion equipment suppliers.
I had a chance to meet with representatives from Hewlett Packard who were displaying their new Indigo 20000, a 30" wide digital printing press intended for short-runs of flexible packaging materials. This press can up to seven colors of liquid toner, with a single speed color of 122 meters per minute (400 feet per minute)... 2 colors half that speed, 4 colors 1/4 of that speed, etc. The resultant image quality is quite excellent. While still a small portion of the total printing market, it is expected that this market segment will grow in size and importance, especially for those printers specializing in short runs of 750-3,000 meters (2,500-10,000 feet). An 18,000 meter (60,000 foot) run is considered long. The machine on the floor was sold to Target Labels & Packaging out of Salt Lake City, Utah.
Several adhesive suppliers were on hand, some of which were partners with HP on the Indigo 20000 press project, such as Dow Chemical, Ashland Chemical, and Sun Chemical. The Dow booth was the most impressive I've seen in my 37 year history of attending these events, with more than 2,000 square meters (21,000 square feet) of floor space and what looked like more than 100 Dow employees on hand.
What sets Dow apart from all other competitors is that is offers liquid coatings and adhesives as well as extrusion grade coatings and adhesives. Dow was showcasing its Pack Studio, a fully equipped applications lab, complete with production equipment, packaging equipment and what may be the best equipped laboratory in the world, all of which come together to produce and test the end package at one of their four Pack Studio facilities around the world (Freeport, Horgen, San Paolo & Shanghai). More on this in another blog.
Packaging equipment manufacturers were also present in force. Mamata displayed a new entry into the market, its new vertical form-film & seal machine, shown below.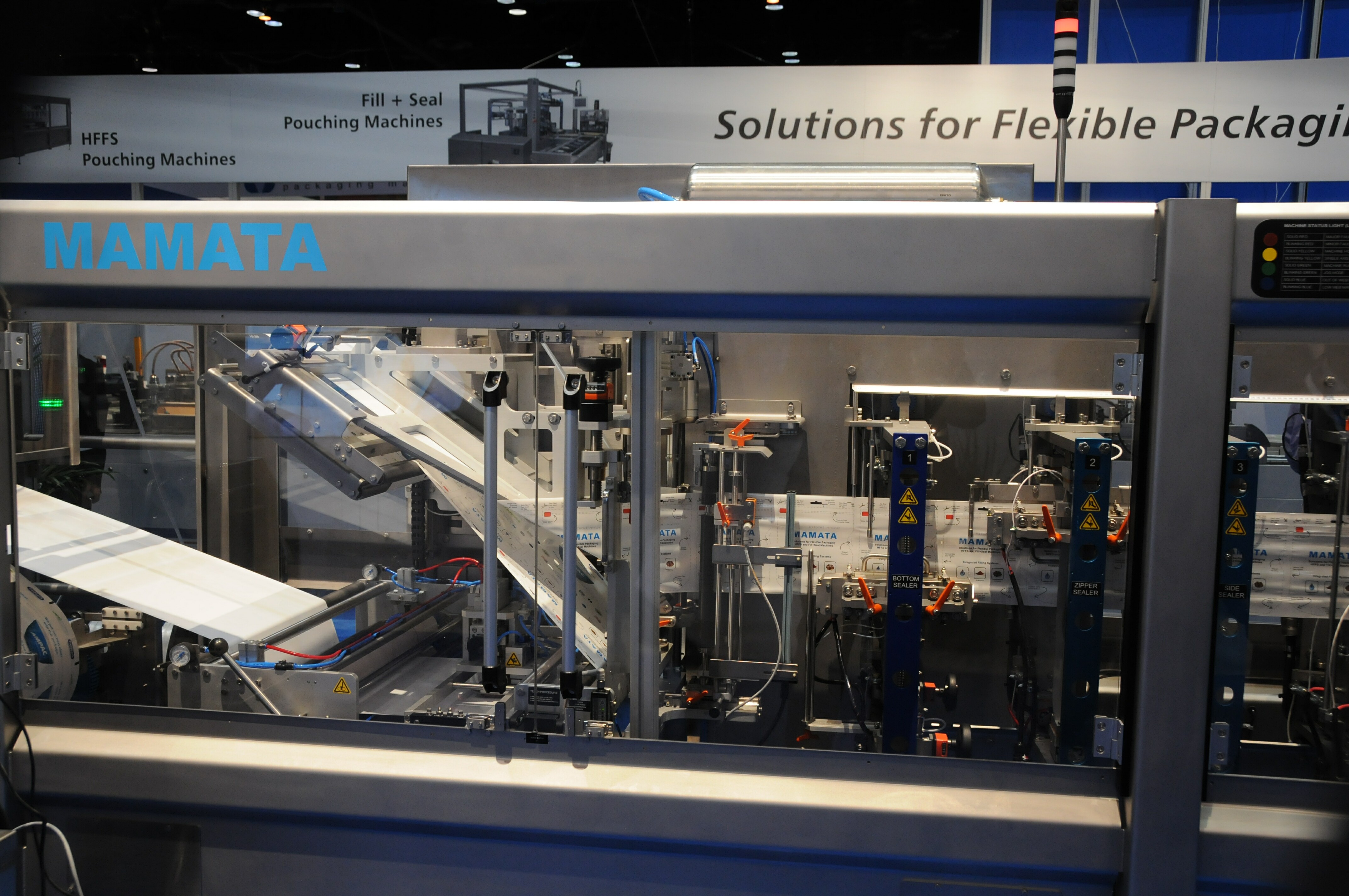 As far as converters present at the show, Coating Excellence International, Rollprint, PrintPack, Bemis, Sealed Air/Cryovac, Printpack, and many more were on hand to display their wares. In addition to all this, which is only a small portion of the exhibitors on display, there were delegations from China, Colombia and Italy present at the show, as well as numerous industry associations, such as the Flexible Packaging Association, the Adhesive & Sealant Council and AIMCAL.
I hope you had a chance to visit the show, and I hope to see you at the ICE Show coming up in February in Orlando, Florida.