Published: October 24, 2013, By Tom Bezigian
More than 218,000 people from 120 countries attended the K-show this year.
While there is too much to cover in a single blog, I can say that I had interesting conversations with CMD Corporation, ExxonMobil, Brückner, Leistritz, Gloucester Engineering, Davis-Standard, Allied Dies, Mamata Enterprises, Ineos, as well as various vendors in the Turkish Pavilion and comments from the President of the SPI at the opening press breakfast.
Overall, the Plastics economy is looking up for the USA according to Bill Carteaux, President and CEO of the SPI. He says that while manufacturing activity worldwide has slowed, US GDP is up about 2.5% year over year. The US Plastics Industry shipped $373 Billion of product in 2012 and employed 893,000 workers in 15,949 factories, making it the 3rd largest sector of US manufacturing. Bill cited the forecast explosive growth of the shale gas industry as a great salvation to the industry, as it will drive down the price of natural gas and thus plastics. Learn more at http://globalplasticssummit.com/
---
I met with CMD Corporation of Appleton, Wisconsin for a demonstration of their bag machine technology. CMD is the premiere bag machine maker in the consumer drawstring trash bag market. Their patented equipment is efficient and makes perforation-free "overlapped" rolls which provide one-at-a-time dispensing of bags. Their patents cover rotary heat seal technology, easy-bag-length-change features, overlapped roll technology, and more. The most easily recognizable products made on the CMD machines is the common white kitchen trash bag with the colored drawstring seen on store shelves everywhere.

According to Lisa Kain, Communications Director, CMD supplies about 95% of the drawstring bag systems in the US for this market segment. She indicates that CMD owns a patent on a proprietary adjustable-length, rotary heat sealing bar which allows for excellent productivity and quick make-readies when changing jobs.
For further information on CMD Corporation and their bag machines, contact Lisa Kain at +1 920 380 8239 or This email address is being protected from spambots. You need JavaScript enabled to view it. or visit www.cmd-corp.com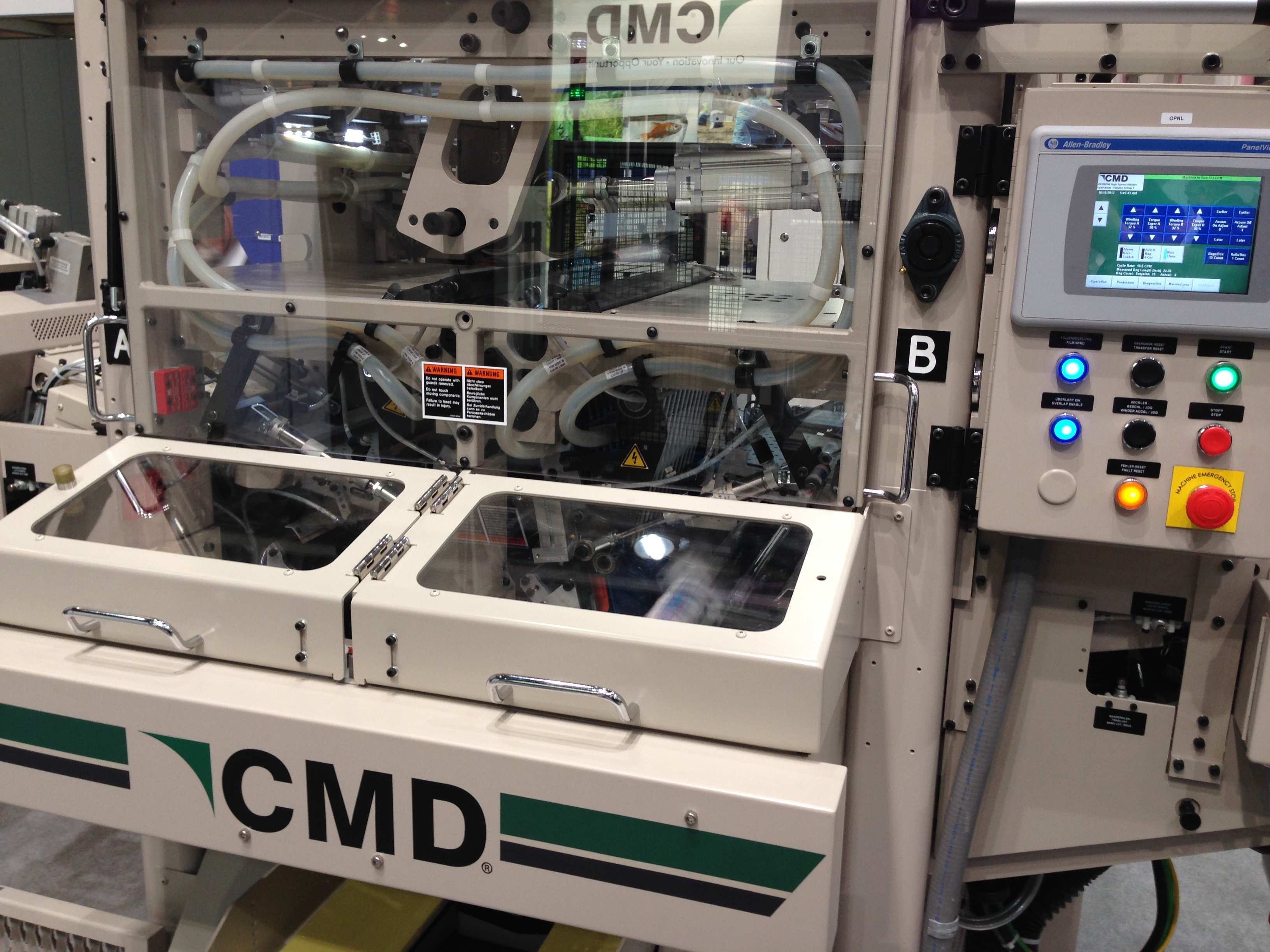 ExxonMobil and CMD are engaged in a cooperative technical effort to develop solutions for converters that offer a spectrum of performance and downgauging opportunities. ExxonMobil's part in this effort is to provide resin solutions to converters that allow for increased productivity, as well as increased toughness (a combination of strength and elongation) or reduced gauge (down gauging) or a combination of both depending on the application through the use of their ExceedTM and EnableTM mPE (metallocene-catalyzed PE) resins and more recently of their PBE's (Propylene-Based Elastomers) trademarked as VistamaxxTM.
To this end, ExxonMobil has developed a line of polyolefinic copolymers of propylene and ethylene produced using metallocene technology. These materials exhibit elastomeric-type properties, and offer a unique combination of sealability, adhesion, elasticity and toughness, ideally lending itself to the refuse bag market. According to Philippe Hardy, Market Development Manager for ExxonMobil in Belgium, the property improvement over traditional LLDPE is impressive. Burst strength, tear strength, elongation to break, heat seal strength, toughness and more are indeed far superior on traditional LLDPE resins, as can be seen in the radar chart below. In this example both resins are used as CaCO3 masterbatch carrier. The solid black line represents traditional LLDPE and the blue surfaces represents the properties of VistamaxxTM resin (see website for complete details).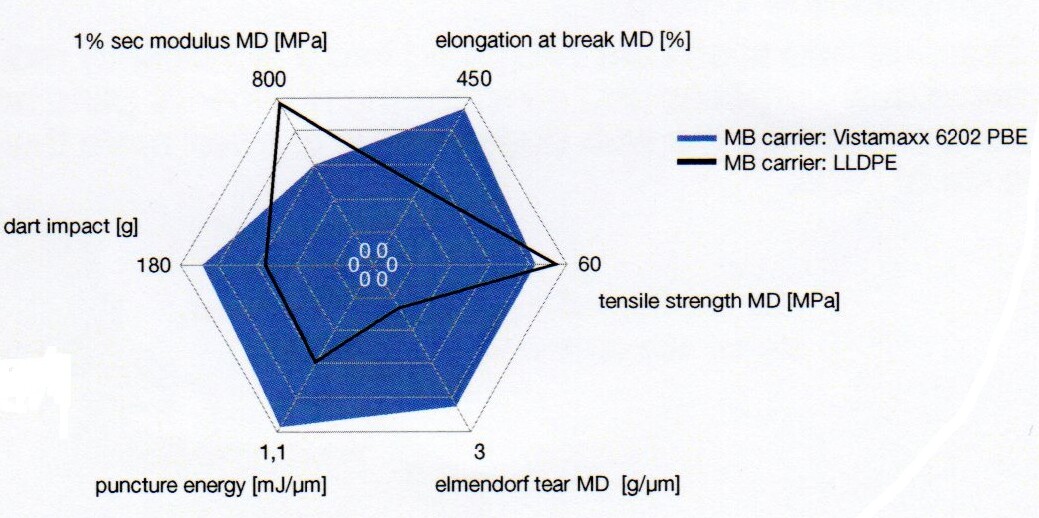 These exceptional properties allows the converter to provide a superior product at the same thickness (at a premium over standard LLDPE) or to down gauge significantly and still provide superior performance into what might be called Utility, Performance and Value-Added grades.
For further information on ExxonMobil's VistamaxxTM resins, call Philippe Hardy at 011 322 722 44 49, or e-mail at This email address is being protected from spambots. You need JavaScript enabled to view it. or visit vistamaxxelastomers.com
---
Extrusion Coating Seminars
I will be conducting several seminars in the coming months through Techno Biz in Bangkok. Three 2-day seminars entitled "EXTRUSION COATING - Principles, Processing & Troubleshooting" will be offered in November in Southeast Asia, in Jakarta, Bangkok and Kuala Lumpur. They and can be found with this link: http://www.plasticindustry-academy.com/
I will be conducting a 2-day lecture on Extrusion Coating at the University of Massachusetts at Lowell (UMASS-Lowell), which can be found here:
http://www.continuinged.uml.edu/plastics/extrusion_coating_technology.htm