Published: September 11, 2023
Interview with Scott Fuller, Product Line Manager, Pouch Equipment, North America
CMD designs and manufactures high-performance equipment for blown film and flexible package converting, including patented high-speed rotary draw tape trash bag lines, pre-made pouch packaging equipment, film and bag folders and winders. CMD offers full technical support, parts and service for customers globally. Custom equipment design is available.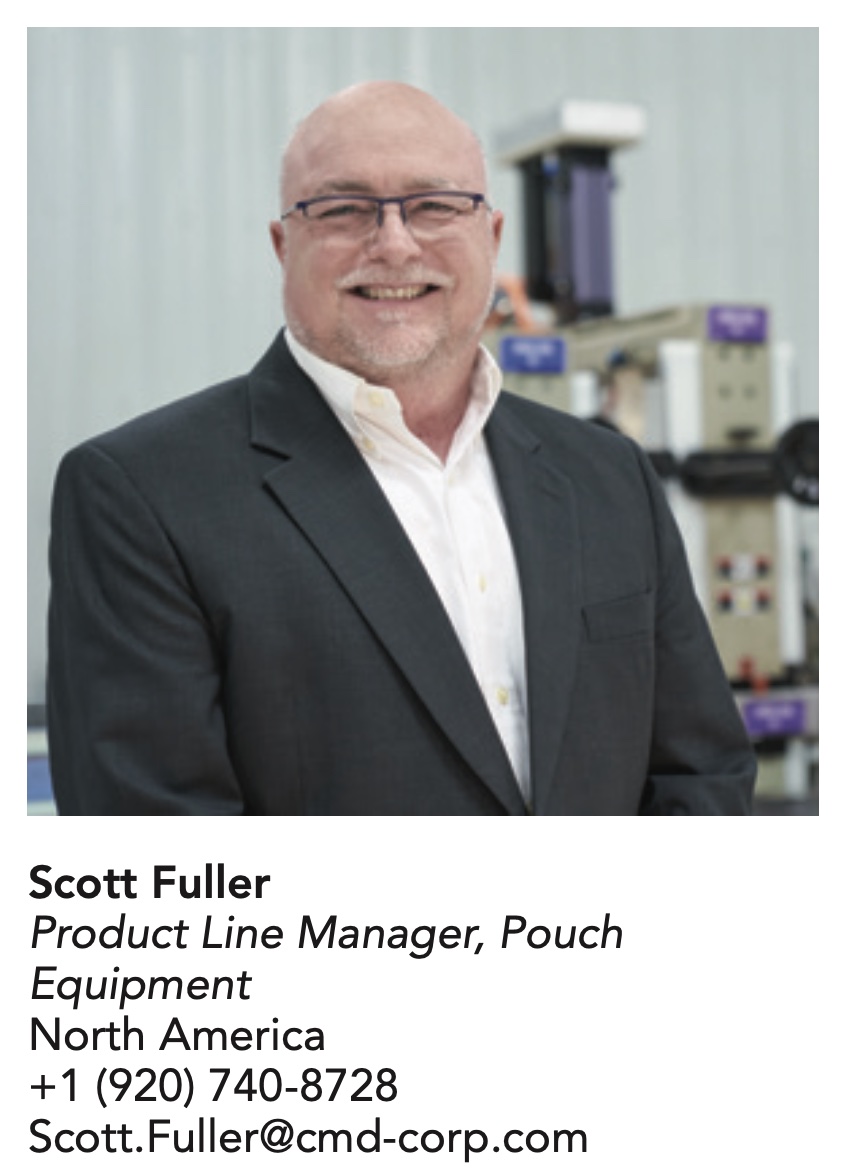 What do converters tell you is their number one criterion when sourcing equipment?
Our customers and partners consistently site process reliability as being the number one most important deliverable they want in a new pouch system.
Reliability - defined not only as a robust machine, but as a quantifiable performance metric. For example, CMD customers reported an average of 90% uptime reliability with the new 760-SUP, based on 2021 and 2022 production reports.
What have converters shared as a chief source of irritation or dissatisfaction with their current pouch converting equipment.
With the high cost of material and labor today, waste and inefficiencies rank high among complaints we hear about some OEM equipment from converters. Reducing both planned and unplanned downtime, for example, is an important aspect of lowering wasted time and material. This is a main benefit of machines designed for reliability, with state-of-the-art controls, predictive maintenance alerts and user interfaces with real-time production data.
How can a pouch converting system help converters manage today's labor challenges?
Historically, pouch systems were dialed in and monitored by very proficient operators and maintenance personnel – many of whom have either retired or moved. Machines with quick change and easy maintenance features are helpful for younger, less experienced operators. The job is more attractive with easier-to-use systems, helping with rentention.
Simple, HMI touch screens basic, repeatable adjustments – and the small features of machine should be simple and easy to use.
What's New in the Pouch Converting Industry?
Sustainability continues to grow, and the recycle-ready pouch is prominently used in marketing and pouch equipment today must be well-designed to convert sustainable materials to allow converters to effectively respond as brand owners adopt these new substrates across more products. The CMD 760-SUP now includes patented Intelligent Sealing Technology on all seal stations, ensuring reliable quality on all film types for all pouches.
E-commerce also continues to grow, and the packaging used by the large online stores continues to are evolve. CMD is developing a new system for converting a variety of e-commerce bags package pouches, designed for high product quality, efficient output, and simplified operation.
What types of things influence return on investment for a pouch converting system?
Accomplished through innovative design throughout the pouch machine, features that will enhance return on investment might include:
Easy operation – quick adjustments and changes while running, a simple, clear touchscreen interface to reduce errors and easy access to critical components for operation and maintenance efficiency.
Quick Changeovers – from job to job and when changing out wear parts, changeovers should be fast to reduce non-productive hours on the machine.
Less Waste – greater efficiencies throughout the operation of the machine will reduce waste in terms of the time that the machine is not operating, materials, and labor. With the CMD 760-SUP design, customers reported an average of less than 2% run time waste based on 2021 and 2022 production reports.