Published: October 10, 2022
Q: What's New in the Pouch Converting Industry?
A: Two familiar market drivers impacting converters are an increased market focus on sustainability and labor shortages.
The recycle-ready pouch is prominently used in marketing for converters, to communicate that they are cost and waste conscious and environmentally friendly companies. Pouch equipment today must be well-designed to convert sustainable materials. The CMD 760-SUP now includes patented Intelligent Sealing Technology on all seal stations, ensuring reliable quality on all film types for all pouches.
Labor concerns are unlikely to go away any time soon. These concerns can revolve around either not having enough people, or their people not having enough experience, or both. Either way, the challenge for machinery OEMs is to alleviate those concerns with creative technology. This leads well into the next question.
Q: How can a pouch converting system help converters manage today's labor challenges?
A: Historically, pouch systems were dialed in and monitored by very proficient operators and maintenance personnel – many of whom have either retired or moved on to other roles. Sourcing a machine that is designed with quick change and easy maintenance features is essential in today's market of younger, less experienced operators. Make the job more attractive with easier-to-use systems so operators don't leave out of frustration!
Simple, common-sense HMI touch screen design, basic, repeatable adjustments – all of the small features of machine design should be focused on simplicity and ease of use.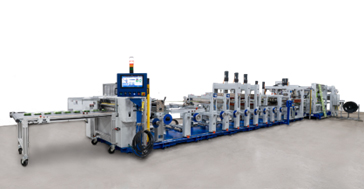 Q: What will CMD exhibit at the upcoming Pack Expo 2022 in Chicago?
A: Our new 760-SUP pouch converting system with smaller footprint and the best ROI of any machine in the industry. We're excited to exhibit live a new design that offers a smaller footprint with less waste on thread-up, provable improvements in process reliability, a whole slew of new easy-operation features and stable, smooth, quiet operation.
Q: How can the right equipment help converters be more profitable
A: Not to oversimplify, but more good pouches out the door with the least amount of waste – labor or material, will enhance profitability. Choosing a machine that delivers the best return on investment is an important element for long-term profitability.
This means that, although an important part of the calculation, purchase-price isn't always the number one consideration. Understanding the technology and the value it delivers helps determine the ROI.
To aid in converters' analysis of their own ROI objectives, CMD has created an ROI calculator that is free to use. https://www.cmd-corp.com/pouch-line-annual-productivity-calculator/
Q: What types of things influence return on investment for a pouch converting system
A: Accomplished through innovative design throughout the pouch machine, features designed to enhance return on investment might include:
Easy operation – quick adjustments and changes while running, simple, clear touchscreen interface to reduce errors and easy access to critical components for operation and maintenance efficiency.
Quick Changeovers – from job to job and changing out wear parts, changeovers should be fast, to reduce non-productive hours on the machine.
Less Waste – greater efficiencies throughout the operation of the machine will reduce waste in terms of time the machine is not operating, materials and labor. With the new CMD 760-SUP design, customers reported an average of less than 2% run time waste based on 2021 and 2022 production reports.
Q: What do converters tell you is their number one criterion when sourcing equipment?
A: CMD regularly reaches out to converters, and they consistently and predominately site process reliability as being the number one most important deliverable they want on a new pouch system.
Reliability defined not only as a robust machine, but as a quantifiable performance metric. For example, CMD customers reported an average of 90% uptime reliability with the new 760-SUP, based on 2021 and 2022 production reports.
Q: What have converters shared as a chief source of irritation or dissatisfaction with their current pouch converting equipment.
A: With the high cost of material and labor today, waste and inefficiencies rank high among complaints we hear about some OEM equipment from converters. Reducing both planned and unplanned downtime, for example is an important tactic to lowering wasted time and material. CMD is test-marketing a new process management tool using IIOT technology called CMD Insights, which will allow remote process management dashboards and predictive maintenance data to forestall unexpected stoppages.
Q: What kind of company is CMD?
A: CMD is a capital equipment manufacturer in the film converting and alternative energy markets. Built on a culture of integrity, we innovate unmatched profitable solutions for our customers and provide life-long service and support to the markets we serve.
CMD designs and manufactures high-performance equipment for blown film and flexible package converting, including patented high-speed rotary draw tape trash bag lines, pre-made pouch packaging equipment, film and bag folders and winders. CMD also designs and manufactures systems, and provides station monitoring, training, and service for the CNG (Compressed Natural Gas) and RNG (Renewable Natural Gas) refueling markets.
Custom engineering and product development are available from the 45,000 sq. ft. Technology Center. Experienced CMD technical service representatives are available for field service, installation, and extended process validation.
A professionally staffed parts department offers quick turn-around to minimize downtime. An established supplier with more than 40 years' experience, CMD serves a global marketplace and manufactures all equipment to exacting standards at USA facilities.
---
Scott Fuller
Product Line Manager – Intermittent -Motion Machinery
CMD Corporation
2901 E. Pershing Street, Appleton, WI 54911
This email address is being protected from spambots. You need JavaScript enabled to view it.
920-740-8728 M 920-380-8350 O
With over 38-years in the Flexible Packaging industry, most of those years either converting bags and pouches or troubleshooting those bags and pouches in the field, Scott brings a unique perspective to CMD's client base. "Not your typical machinery sales guy" is the phrase our customers and prospects most frequently use to describe Scott's approach. By combining that rare 'real-world' experience with CMD's renowned engineering excellence, Scott stands ready to help you take your pouch converting operation to the next level.