Published: January 04, 2017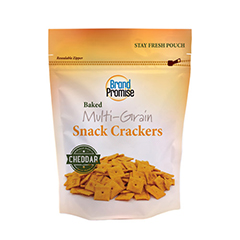 ATLANTA, GA | Printpack has launched its new, easy-tear polyethylene pouch designed for compliance with the How2Recycle store drop-off recycling stream. In addition to providing easy recyclability, the package can also be equipped with customizable options for moisture barriers, oxygen barriers, and closures to better preserve contents and combat food waste.
The recyclability attribute of the pouch stems from its single-material structure. Films with multiple materials can contain a combination of recyclable and non-recyclable layers. It can be difficult—in today's recycling stream—for the different components to be separated and efficiently moved through the proper channels. A single-material structure maximizes recycling efficiency for polyethylene packaging, which is further supported by How2Recycle.
How2Recycle has partnered with the American Chemistry Council's Flexible Film Recycling Group, which leads the Wrap Recycling Action Program (WRAP). WRAP helps to propel the recycling of polyethylene film in the US by expanding public awareness of plastic film recycling and boosting the number and proficiency of store drop-off locations throughout the US.
"Consumers are increasingly concerned about the impact of packaging waste on the environment, but they do not want to compromise on convenience and product quality," says Mark Brogan, director of technology and innovation at Printpack. "By providing them with packaging that is easily recyclable and free of significant learning curves or sacrifices to convenience and product protection, brand owners can live up to their sustainability promises and build greater brand loyalty."
In addition to the recyclability attribute, Printpack's new pouch also helps brand owners take a proactive approach to combating food waste. Combinations of coatings, barriers, and closures work together to preserve food product flavor, color, and aroma to maximize shelf life and contribute to a more positive consumer experience from the first serving to the last. Additionally, the reverse-printed laminated structure of the pouch protects graphics to ensure pristine presentation for the lifespan of the product.
The new pouch can be used in applications for multi- or single-serve snacks—such as nuts, cookies, crackers and chips—as well as beans, pet foods, pet treats, and more. For customers seeking to maximize both the sustainability of their packaging and the longevity of their product lifespans – especially amid the rise in demand for organic and natural foods that to not utilize chemical preservatives – Printpack offers a special consultative process that considers their market needs, necessary barrier properties to prevent food adulteration, and the latest reclosable features to enhance the consumer experience. Solutions include stand-up, shaped, spouted and fitmented pouches, wicketed bags, flat-bottom bags, re-sealable closures, advanced coating technologies, laser scoring and clear barrier solutions that protect against oxygen, moisture and UV light.