Published: December 08, 2016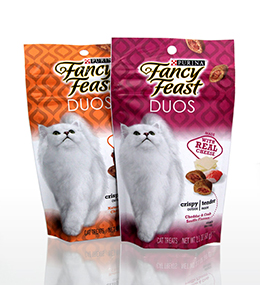 MANTENO, IL | Feeding and treating pets is as much about the experience and the anticipation as it is about the food itself. That thought was top of mind with Purina when, in collaboration with Zip-Pak, they selected Sensus for Fancy Feast Duos treats.
Ideally suited for pet products, this unique sensory closure system provides heightened audible cues each time the pouch is opened. As a result, Purina's Sensus-enhanced package helped deliver a more interactive, mutually engaging treating experience for pet owners and their cats.
The Sensus feature provides both audial and tactile feedback to assure the consumer that their package has been firmly sealed. Sensus is the first in a family of resealable closures that Zip-Pak calls Sensory Feedback Fasteners; they feature performance characteristics that appeal to a consumer's sense of sound, sight, smell or touch.
The Sensus re-closure profile is specifically designed to create a tactile bumping sensation and audible clicking noise when the zipper is opened or resealed. Made of Low Density Polyethylene (LDPE), Sensus can be applied to virtually any type of flexible packaging regardless of pouch size, and is especially well suited for form-fill-seal machine applications.
Beyond pet brands, Sensus is ideal for a broad range of flexible packaged consumer products, including cereal, granola, salty snacks, and detergents, as it aligns with what Zip-Pak has identified as the global trend toward more interactive consumer packaging. The audible sound provides consumers with the assurance of a secure, tight seal.