Published: October 07, 2016
FRANKENTHAL, GERMANY | RKW has put a new ten-color flexographic printing machine into operation at the plant in Echte, Germany, on schedule—before the beginning of the fourth quarter.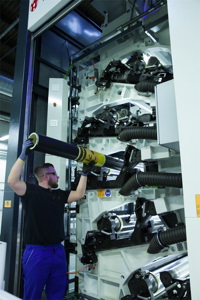 Company says this new printing system helps it offer customers a wide range of design options and high quality printing images—especially for the self-venting ProVent plastic bag and other industrial bag solutions. The ProVent plastic bag, described as a polymer-based alternative to paper packaging for powdery, moisture-sensitive goods. "With the new flexographic printing system, we have extended our competencies at the site in Echte and offer customers a lot of flexibility in terms of layout design, along with a consistent print quality," says Johannes Heintges, general manager RKW Echte.
The color management system recognizes deviations of color shades, checks, the values automatically, and provides a maximum of color match and consistency. The comprehensive print image monitoring assures a consistently high printing quality from one end of the roll to the other, company says, thus avoiding waste. The control system of the corona pretreatment enables a free design of necessary cutouts for the subsequent, optimized heat sealing of the films. "Including all additional features, we currently operate the most modern flexographic printing machine in Germany," Heintges says.
With the investment, RKW follows the principle of sustainability, which it reports is an integral part of its corporate policy. The color and cleaning system reduces changeover times during color changes, saving material and energy. Even full surface varnish applications require no additional effort due to special cleaning features. The automatized color mixing system works resourcefully with the components that are being used: Solvent vapors are automatically sucked in, burned and, thus, recycled thermally. The resulting energy is used for the drying system of the printing machine. Soiled solvents are distilled and re-used. This contributes to a reduced consumption of solvents. Additionally, the color mixing system reintegrates surplus colors into new color mixtures via software calculations.
This email address is being protected from spambots. You need JavaScript enabled to view it.