Published: May 23, 2016
"Show Me State" is perfect home to Consumer Goods Packaging business that has lots to show.
Mondi's Consumer Goods Packaging business in North America is situated in the rolling hills of Jackson, MO, about 100 miles south of St. Louis. The city, once named by Money magazine as the 59th "best small town in the United States in which to live," is rich with venues for fishing, hiking, winter sports, and community gatherings. It is self-described as the "City of Beautiful Homes, Parks, Schools and Churches," and as home to Mondi's Indian Creek and Hubble Creek flexible packaging manufacturing plants, it is a choice location in which to conduct business.
"We are a socially responsible company," says Ross Bushnell, president of Mondi Jackson, "and a fun company to work with. Our employees regularly volunteer to participate in philanthropic community activities, like the Cape Heart Walk, which raises funds for the American Heart Assn., community clean ups, and the United Way campaign in Southeast Missouri. Our customers and trading partners who visit us leave knowing they've encountered a truly upbeat organization. You might say that our business complements the true character of Jackson."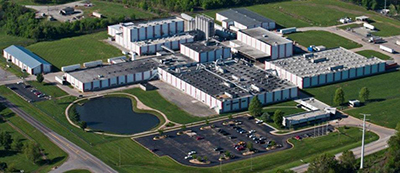 Mondi's Jackson facilities constitute a vertically integrated production line for flexible packaging in a huge variety of sizes and formats. The company laminates and converts bags and pouches and is a premium high-definition flexographic and rotogravure printer. And, while Mondi Jackson extrudes much of its own polyethylene, the business is always on the lookout for trading partners of foils and films.
"Our plants produce several million bags and pouches annually for some of the largest pet food and fast consumer goods brands in North America," Bushnell says, "but we're always searching for suppliers with whom we can work closely to address evolving needs in the marketplace."
Bushnell points to packaging solutions that Mondi has produced in recent years as examples of the innovative thinking he prizes in suppliers. The company has developed easy-to-open flexible packaging that meets the needs of the burgeoning seniors sector, single-serve food packaging that appeals to on-the-go consumers, and baby food pouches with large choke-resistant caps that give parents an extra margin of product safety for their young children.
Mondi GROUP
Mondi is an international packaging and paper group, employing around 25,000 people across more than 30 countries. Key operations are located in central Europe, Russia, North America, and South Africa. In 2015, Mondi had revenues of €6.8 billion and a return on capital employed of 20.5%.
Mondi Jackson employs managers, equipment operators, and sales and administrative staff at its Indian Creek headquarters and Hubble Creek conversion plant.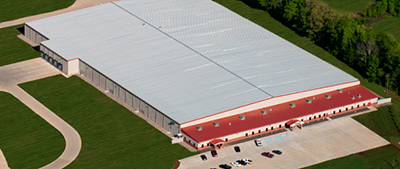 Equipment at Indian Creek includes a new high-definition ten-color Windmoeller & Hoelscher flexographic press, capable of printing speeds to 1,640 ft/min. The plant also houses blown extrusion, rotogravure printing, cylinder engraving, lamination, slitting, and hygiene and diaper component manufacturing capabilities.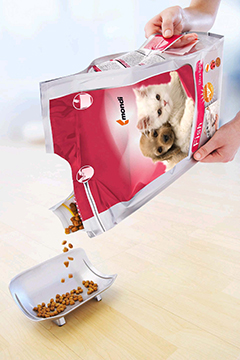 Equipment at Hubble Creek includes new spout insertion machines that went live in 2015, a Karlville flexible pouch and bag production line that uses multilayer film, installed July 2014, a high-speed wicket line, and production equipment for standup pouches, square bags, flat bottom bags, and FlexziBox flexible bags with side pour function.
"Our recent investment in new IPN Equipment B.V. spout insertion machines enables Mondi to maintain capacity for the growing migration of consumer goods from rigid to flexible packaging," Bushnell says. "Plus, it supports increasing market demand for spouted baby food and fruit product pouches. It has a 100% infrared inspection of the spout seal and automatic reject based on defect detection."
Mondi's wicket line produces diaper packaging supplied to diaper packagers on spools containing up to 150 bags. The line can apply labels both inside and outside of a bag, and employs a vision system to provide 100% inspection of each label for placement accuracy. Diaper bags can be printed according to customer specifications.
Mondi is qualified by customers, co-packers, and the National Food Laboratory for retort and hot fill spouted pouches used on a variety of filling lines. Mondi's retort and hot fill service offering includes expert technical and design assistance, quick turnarounds, and a 100% inspection rate.
Mondi Innovations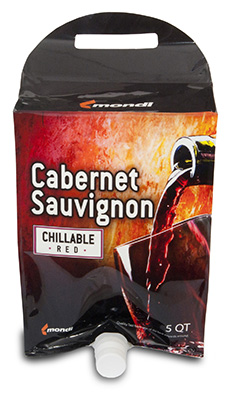 The FlexziBox flexible bag incorporates some of Mondi's newest packaging solutions. It has a perforated area at the top for easy opening, and its side-gusset closure allows the bag to be reclosed after use, protecting the contents. The bags can be printed in up to ten colors using rotogravure or high-definition flexographic processes. Matte finishes can be applied to the bags' printed areas, adding visual depth and producing an appealing contrast with the packaging's glossier images.
Mondi's patented Square Bag incorporates advanced packaging films with a variety of spouts, closures and handles. Highly versatile, the product platform supports diverse consumer goods applications, including the packaging of food, wine, laundry detergent, pet food, and motor oil.
"We welcome suppliers of films and foils who can deliver higher barrier properties that facilitate longer shelf life for food products," Bushnell says, adding that Mondi is open to virtually any advancement that might help grow new flexible packaging business. "We are looking for sustainability advancements, too, primarily as a function of waste reduction and environmental stewardship. Bottom line: We are focused on developing strong partnerships with suppliers that add creativity, technical knowhow, and a passion for customer satisfaction."