Published: November 18, 2014
CARROLLTON, TX | Heritage Bag, one of the largest can liner manufacturers in North America, is a second generation, privately owned business headquartered just outside of Dallas, TX. The company has more than 100 extrusion lines spread among six strategically located plants around the US, in Utah, California, Ohio, Georgia, New Jersey, and Texas. Recently, construction began on a new facility in Roanoke, TX, which will replace the company's presently outgrown headquarters. The new building will be much more efficient as it will house both high efficiency manufacturing plant as well as the new corporate center in one custom-built 330,000 sq ft building.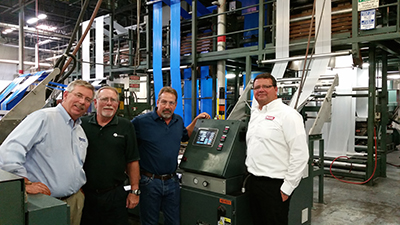 "Our new plant is really going to be a 'Grand Experiment' for us," says Cray Quinn, VP of corporate facilities and major projects at Heritage Bag. "We'll use this state-of-the-art facility to test new methods and technologies that will test the limits of what we can do. If these are successful, we'll use it as a model for our five other plants. From material handling to labor usage, from lab testing to facility management, we envision this new headquarters as a real workplace laboratory to help make our company even better at what we do."
Machinery Upgrades for Better Productivity
The new headquarters will hold 16 blown film lines and with those blown film lines will come bag machines from Gloucester Engineering Co. Inc. (GEC). GEC and Heritage have worked together since 1973 when Heritage purchased its first line ever from Gloucester. Since then, GEC has continued to support Heritage with blown film lines, dies, and bag machines. Most of these machines, including the original blown film line, are still fully operational and in many cases actually produce more pounds per hour today than when they were brand new.
With the new facility on the way, Heritage purchased six new bag machines from GEC, each equipped with the improved interface and full servo power. Not only are the new machines with servo motors more efficient and less prone to maintenance issues than the old hydraulic design, but also the new interface is easier to operate. "Sometimes we're asking four or five people to operate 18 machines on our floor," says Quinn. "Having a consistent, simple control system across our machines helps us train new employees faster and helps our current employees do their jobs better. That's why over 60% of our bag machines are from Gloucester Engineering."
With the success of the six new bag machines, and in an ongoing effort to increase efficiency further, Heritage had GEC retrofit some of the older models to bring them up to date. Originally, Heritage sent in three machines to evaluate the performance and appearance of the rebuilt machines. Met with success, Heritage is sending ten more bag machines to Gloucester for rebuilding, some of which were originally built by other companies. "Gloucester is really the best in the business when it comes to aftermarket support and service," says Quinn. "They support and improve their machines constantly, and are even willing to rebuild machines that weren't originally theirs, regardless of the OEM. With Gloucester's help, we eventually see all of our bag machines going to servo motors."
Most of the retrofits have involved converting older hydraulic drives into new servo drives and providing an updated user interface and operator's panel. "The servo motors are much more efficient and require a lot less parts" says Laurent Cros, president of GEC's Lifetime Support Division. "They're also much more maintenance friendly because there isn't any hydraulic fluid. All hydraulic systems leak eventually. The servo motors take that problem out of the equation."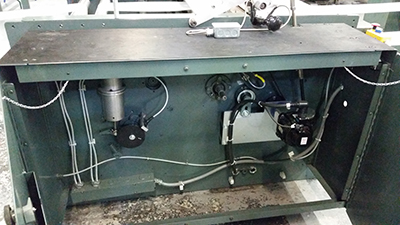 All 13 of these retrofitted machines will be in Heritage's new plant, and with its role as a model plant for the rest of the company, it is likely that the other facilities will soon follow suit and take advantage of Gloucester's industry leading retrofitting capability. To further strengthen ties, Pearl Technologies Inc., acquired by Gloucester in 2012, visited Heritage to discuss future sales and innovative solutions. Pearl, known worldwide as an expert in the converting and extrusion industries, will work alongside Gloucester to help ensure Heritage upholds its reputation for high quality products, offering blown film line enhancements from bubble to bag.
"Pearl's offerings in extrusion and converting products are ideal for customers such as Heritage Bag" said Robert Tewksbury, VP marketing and sales at Pearl. "Gloucester Engineering and Pearl are collaborating very successfully and provide value to our common customers by allowing them to produce better film, faster."
A Strong and Growing Business
As a company, Heritage believes the US resin market will eventually trend in a positive direction for domestic converters. Polyethylene production costs are very low in the US when compared to many other regions. This is due to the increased supply of domestically produced natural gas liquids, which should create an advantage in the long term for the US plastics industry. "If the US resin production cost advantage continues as expected and new resin production capacity comes on line as expected, then we can foresee an advantage for US converters, which could create international growth for our products," says Quinn. "It would be a real 180 from our position of the last 20 years. Instead of battling against low cost imported bags, there seems to be an increasing possibility that we could not only defend our domestic markets but perhaps even develop some export business."
In addition to the physical changes they plan to make to the Texas plant, Heritage also will take on more compostable and recycled bag projects. "Compostable is a popular, high growth area for us," says Quinn. "As the market matures, we look forward to the price of these unique raw materials coming down. That will facilitate more growth. Our compostable BIOTUF can liners meet ASTM D6400 which, for industrial composting, is defined as 84 days as reasonable for fragmentation of the product, and 180 days for complete mineralization and break down in a properly managed composting facility. "Completely break down" is defined as greater than 90%. Over the past 10 years the demand for this has grown but its complexity makes it challenging to do on a large scale. We do it as well as anyone in the industry and foresee the new plant taking on a lot of projects in that field."
Due in part to its strong product quality and high-end customer service, and partly because of its primary market, business at Heritage remained strong even through the recent recession. The company has a strong customer base—some of which have been Heritage customers for more than 30 years—that has a constant, high demand for their products.
Recently, many plastic bag producers have seen a rise in controversy over their products, with plastic bag bans propagating across the country. However, unlike the negative public image that gets associated with single-use grocery bags, there is no sign of push-back on trash bags from the public. "There's no real alternative out there in the marketplace," says Quinn. "People need to get rid of their trash, and a strong plastic bag is the most effective way to do that. While we don't see the plastic garbage bag going away anytime soon, we have stayed on top of the trends for compostable and recycled plastic bags to give our customers all the options they need."
"We have worked with Heritage Bag since they started up for a reason," says Carl Johnson, president of GEC's OEM Division. "They have good people here and a great business model. They're successful because of their commitment to staying at the forefront of the industry. They push themselves to stay at the cutting edge and, because we see ourselves in the same mold, we value that trait in any of our customers."