Published: June 10, 2014, By Nsenga Byrd Thompson
Illinois-based Specialty Packaging Technologies (SPT), a subsidiary of Precision Color Graphics Ltd., opened its doors March 3 as a new name in the flexible packaging market. But, under the leadership of industry veterans Tony Cherot, president, and Jane Dirr, VP, business development, SPT is far from the traditional start-up company.
"Tony and I have been in this industry a very long time," Dirr says. "We had our own converting company and were one of the first to produce stand-up pouches with all the bells and whistles, like zippers and spouts…. We know the ins and outs of flexible packaging. We know the markets and the clientele.
"So while the name is new, we are not a start-up organization," maintains Dirr. She credits the success they've had in the pouch market to keeping their customers first and believing in the products they offer, which include a variety of styles, including zipper closures, tear notches, stand-up pouches, gusset, back seam pouches, and spouted.
"Fifteen years ago people were saying, 'this is just another fly-by-night kind of package, and it's going to go away,'" Dirr recalls. "But it's not going away. It's our position to insist on improving it, to make sure we our servicing a wide variety of industries, and we are introducing new markets to this type of packaging."
Although experienced management gives SPT a huge advantage many new businesses lack, Dirr explains that a key ingredient to their flexible packaging expertise is investing in equipment from an equally experienced supplier.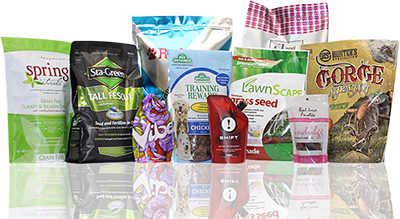 Partnering for success
With any new converting venture, equipment choice is critical. Luckily, SPT lost little sleep in choosing a multi-functional pouch line that could create the various designs Dirr and Cherot helped pioneer. When they opened their first flexible packaging company in 1995, they built a lasting relationship with Karlville Development Group—and were eager to work with Karlville once again.
"When Karlville was in their infancy, we were a new converting company as well, so we have grown together," says Dirr. "The equipment is economical and versatile. It's a workhorse."
SPT's 15,000-sq-ft production facility has been running two KSP and KSG 600mm multi-format pouch machines. Production also includes Karlville's 63-in. slitter and a spout inserter.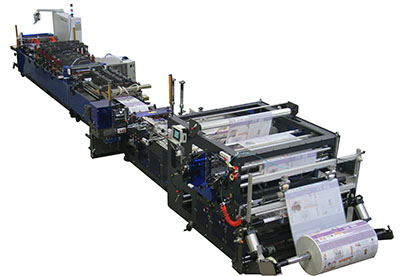 "In a multi-format machine, you can produce so many types of pouches. You can run stand-up, side gusset, back seam— and you can produce this wide variety of style and pouch configurations on one machine," explains Dirr. "That one machine has one of the smallest footprints of any pouch converting equipment right now. That equates to quicker set-up time and lower scrap and waste rates, which leads us to accommodate our customer's needs in a much more economical basis—and quickly."
Dirr reports changeover time on the Karlville pouch machine is less than 45 minutes. "Now that's efficient!" says Dirr. "You run multiple pouches for your customers, and your changeover takes less than 45 minutes. That translates into dollars."
New Hybrid Pouching Machine
In May, SPT announced its latest purchase—Karlville's KSPQ hybrid pouching machine, a compact, multi-functional machine that allows for quicker changeover and increased efficiencies from both economic and versatility standpoints. SPT is the first company to buy this equipment.
"There are thousands of machines in the industry, but the KSPQ is the first of its kind on the market, and we're thrilled to have it on our floor," says John Goeden, president and CEO of Precision Color Graphics. "This machine is just the next step in the investment in the future of Specialty Packaging Technologies, which offers even more diverse packaging options for our customers. With its v-board and unique features we can run side gusset and quad seal pouches along with stand-up zipper pouches."
The new machine has a 450-mm web width with one web/one film configuration and runs at 225 cycles/min, allowing Specialty Packaging Technologies to react quickly and diversely, and enabling them to handle a very large marketplace and produce pouches in many different formats.
"Normally you'd need more than one machine to run this line-up of pouches, now we can do it all in one compact machine," says Cherot. "The KSPQ is a very high performance machine with considerable economic benefits by offering reduced scrap rates, efficient changeover times, and boosting run rates, which ultimately increases production capacity."
"It is always exciting to be able to offer current and potential clients a new package style that offers the design, function, and product differentiation, especially with a manageable price point, that all brands search for in today's market," says Dirr.
Building Business
While most new businesses struggle to build a client base, SPT's greatest challenge has been handling the backlog of projects they have acquired before ever revving up either of its two pouch lines. Although Dirr admits it's a nice challenge to have, she is realistic to the long road ahead.
"We are competing with the big guys out there, so we have to do things better, smarter, quicker, and we have to be competitively priced," says Dirr. "That's always a challenge when you are smaller."
Recognizing that it is a small operation in its infancy, Dirr says the key to growth is taking advantage of its position in the market at this early stage, and offering its customers what they have always been able to do consistently, long before they launched the SPT name. "If you can offer that customer better service and a quality product consistently, you will maintain their loyalty."
Maintaining customer loyalty, along with building a new clientele is a successful mix that Dirr has seen work before. "With my past experience, I can tell you in all sincerity, in less than two years from now we will probably be in a different facility; we will multiply by at least two to three times the amount of equipment; and our customer base will be much more diverse."
With their goals set high and a mission to always stay innovative, SPT has the right leadership and equipment to become a trusted name in the flexible packaging industry.
RELATED ARTICLES
Flexible Packaging | Precision Color Graphics Breaks Course
Digital Prepress | Bridging the Gap Between Flexo and Offset