Published: January 07, 2014
AMSTERDAM, NETHERLANDS | Clondalkin LPF has invested in a machine to produce stand-up pouches, adding to the company's existing capabilities manufacturing complex multilayer barrier laminates for food, non-food, and confectionery products.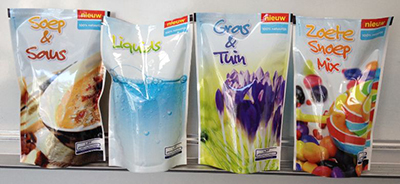 In addition to supplying high performance rotogravure and flexo-printed laminates and flat pouches, LPF can now produce a wide range of stand-up pouches with elliptical bottom (doypack) or flat bottom, pouches with round corners, shaped pouches, zippered pouches, and retort pouches using a range of substrates between 60-300 micron. All in combination with a possible Easy Opening by Laser, using LPF's light radiation technology.
LPF's knowledge and leadership within the supply of packaging to food, drink, and pet food sectors meant that the production of stand-up pouches was a logical step to take. The investment offers existing and new customers, exciting and new opportunities to source the highest quality stand-up pouches from a highly reputable supplier.
Rienk Jan van der Kooi, LPF general manager, said: "We are excited about this new development, stand-up pouches are growing at 5 percent per annum and are a product that our customers need. As with all of our investments, the customer is central to our decision, and this new capability means that they can access pouches from us to take advantage of our high quality production techniques and proven customer care ethic.
"The growing demand for our products has recently led to us appointing four additional people to our sales team who will be taking this new product to market globally."
Clondalkin Group operates in a wide range of packaging product sectors across international markets with over 35 production facilities in Europe and North America.